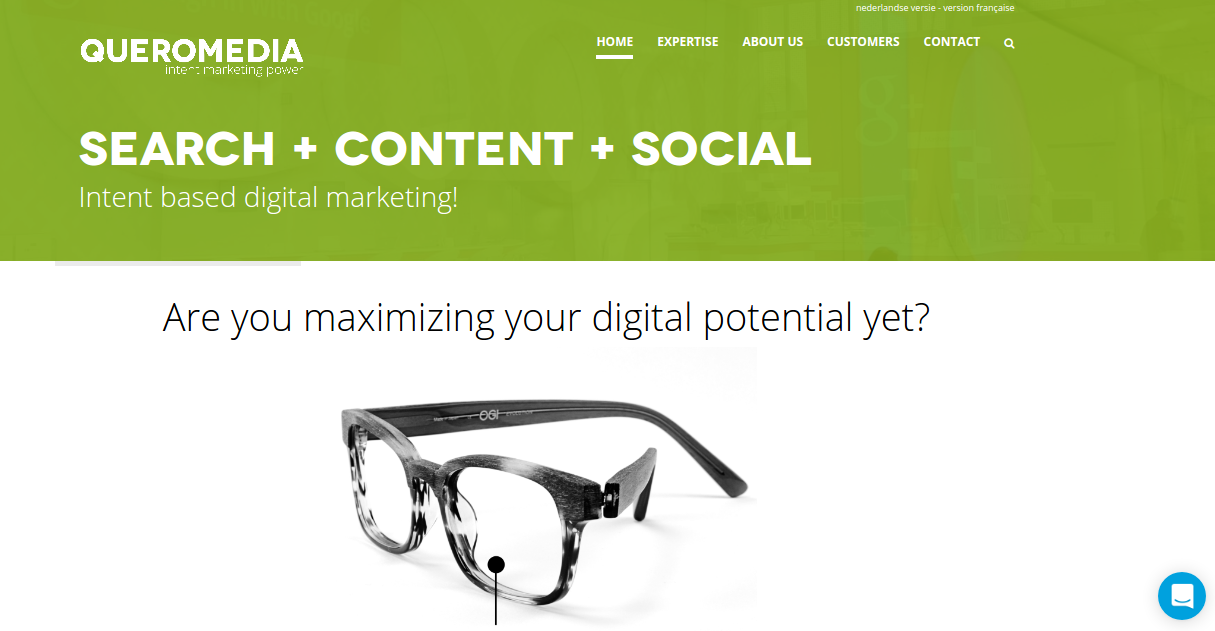 Creative Agency Queromedia

Country: Belgium
City: Antwerpen/ Gent
Services Provided: Interactive Marketing, Content Marketing, Branding, Digital Marketing, Conversion
Full Address: De Villermontstraat 9 2550 Kontich Belgium
About the Agency
Queromedia is a full creative digital marketing agency having an international focus. They are optimizing client's online strategy and efficiency of client's website. Clients have the opportunity to choose between tailor made or integrated package. Their international and multilingual team of professionals is contributing in achieving their client's goals. This online creative agency is glad with their intent-based marketing strategy because it is focuses on high level of quality communication as well as constant dedication to their staff. The creative branding agency always ensure to make the best difference.
This agency is born with search engine blood as well as they are deeply rooted in terms of social influence. The agency is working with international market leaders and major brands as well as NGO's and governments. They also work with medium sized and start-up businesses that only have small budgets.
For them, even though clients have limited resources, they can still manage in reaching the best results. Queromedia believes that digital marketing remains to be one of the essential marketing channels, so they are offering packages that suits to the budget of their clients. Their customers are situated in different vertical markets like travel, finance, manufacturing, healthcare, entertainment and media.
Short History
Since the creative agency foundation in 1999, they have become a pioneer in digital marketing field. In November 2006, the Fortis Venturing took a minority stake in the agency in supporting their European expansion. In the year 2009, the agency got a capital injection from the venture capital funds of Arkafund, which is an initiative from Corelio, ARKimedes and Dexia Bank fund. The given investment was used in professionalizing their services as well as to strengthen their team.
Queromedia is a partner who considers their clients and draws a custom-made strategy. The company creative is offering a whole provision of services in digital marketing: convert, retain and acquire customers. Their customers are always happy in going the extra mile with the agency.
Choose the best creative agency for your online marketing campaigns today, learn more about Mia!
About the Team
Queromedia has a magnificent service record. Their professionals are among the best experts in the industry and they have the skills in building complex, international, effective and robust digital marketing campaigns. They know that clients brand is their essential asset and their job is to make it shine at the same time getting the best possible investment return. The team of the agency is using a multidisciplinary and integrated reporting for all clients' digital marketing activities.
Tom Bogaert: He is a managing partner of the agency creative and he has strong combination of business and IT skills. He is the perfect liaison between informatics and marketing. In short, he has the passion about digital media.

Geert Bogaert: He is also a managing partner in Queromedia and has passionate in digital marketing. He is now the operations manager and he is responsible for Queromediaa finances.
Services
Optimally rank their clients website on the internet, be it SEO or website optimization

Advertise on search engines

Building new websites

Make clients sites enticing to customers and user friendly

Content marketing: Swirling texts and promotional texts in inspiring prospects

Focus on web statistics in increasing clients website efficiency

Take care of clients brand strategy on online communities, social networks, blogs and other interactive online media forms
Intent driven: An intent driven and balanced combination of technology and concept, their talented team and their unwavering focus on digital marketing granted them unique position and what makes them going is the respect they are getting from their clients.
Full potential in digital marketing: The agency helps clients to stay at the top of every game because it is the key in achieving the best results.
Internet based digital strategy: Digital strategy requires a solid ground and the agency do it by determining clients targets and aims. Keep in mind that the digital strategy will be their guide in making clients way through the interesting digital marketing world.
Search marketing: Queromedia team helps clients in suing Yahoo, Bing and Google in order to have quick access to services, entertainment, information and products.
Some Examples of Their Work


Queromedia has an international focus in helping their clients with their digital marketing campaigns. If you need help in marketing your business and if you need social media marketing, content marketing, web analytics and others, the agency will be your help to get what you want.
Learn more about the online creative agency today!