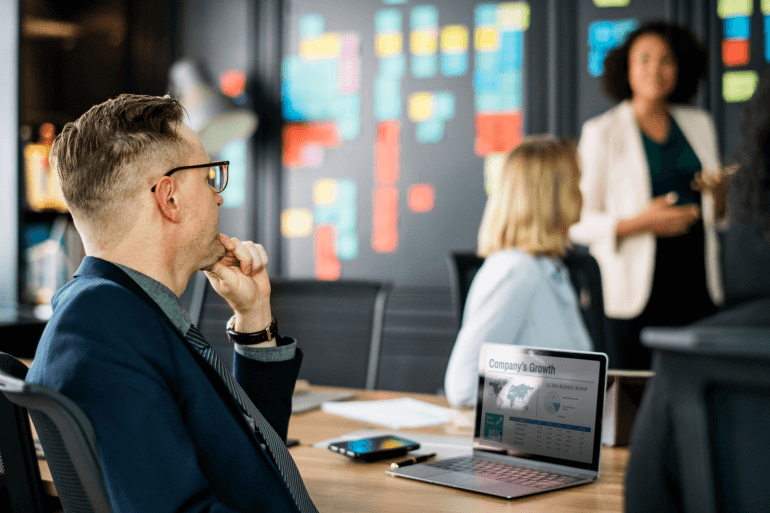 Virtual CTO Services: Agencies Offering Remote CTO for Hire
Modern businesses are finally discovering all the benefits of remote recruitment and now almost any kind of IT specialist can be outsourced. The situation is no different for C-level executives like CTO. Chief Technology Officer is the exact person that makes sure that the company uses technological solutions in the most efficient way.
Remote CTO Services: An Overview
These days you can find quite a few virtual CTO agencies in the world that provide their services for clients all around the globe. Let's take a look at the most prominent ones below:
Mobilunity. You can easily hire remote CTO specialists at this company with broad experience in any industry you need. Mobilunity is a top Ukrainian outstaffing company with over 9 years presence on the IT market. Their expertise lies within the IT consulting and development field, and they are able to create a bespoke solution for any type of business.
Muoro. Located in New York, this company can provide IT consulting services as well as help you in finding a perfect remote CTO for your business.
CTO on Demand. This Canadian company offers a wide variety of services in the field of software and web development as well as putting together remote teams or sole executives.
Bisvi. The owner of this company believes that technology should simplify your life and hiring a remote CTO will help you with that.
Automate Technology. If you need a bespoke tech solution for your business – this company is the right place to go.
Orion Network Solutions. By hiring a remote CTO from this company you will receive a specialist, who will work as a partner alongside you.
Exsquared. These guys will be happy to help you set a remote team or just assist with virtual CTO services.
Dag Tech. An international outsourcing company will be glad to offer you its remote CTO services.
Galyma. Hiring a virtual CTO at Galyma will cost you twice cheaper than having the same kind of specialist in your office.
Sweethaven. By hiring a remote CTO at this company you will be able to optimize all the processes at your tech department for a fair price.
As you see, there are plenty of companies nowadays that are willing to offer their remote CTO services. If you are still hesitant about whether or not you should try it – keep in mind that even the biggest companies out there have turned to outsourcing at some point. For example, GitHub, IBM and WhatsApp were no strangers to letting an offshore vendor take care of their software development process.
Virtual Chief Technology Officer Roles and Responsibilities
When it comes down to the list of typical responsibilities of the virtual CTO, it does not have that many differences from those of an in-house one. Let's take a look at the most typical tasks a CTO for hire would have to deal with:
Identification of technological trends within the industry;
Simplification of the company's technological goals and vision for every employee's understanding;
Identification of the necessary hard- and software;
Optimization of the tech department daily routine;
Policies and standards development;
Development of the company's technological vision and strategy;
Implementation of the necessary maintenance procedures.
To successfully achieve all those goals a representative of CTO advisory services would need to possess the following qualities:
Strong communication skills. You and your remote CTO will be located in different offices so there will be plenty of virtual communication.
High level of experience. It is best that you make sure that your remote CTO has a technical degree and all the necessary certifications.
Foresight. CTO is the kind of specialist who is bound to make strategic decisions and be able to think a few steps ahead.
Experience in working remotely. It is ideal if your virtual CTO has experience of working in a startup or as a remote team member.
How do you know when your business needs CTO virtual services? Typically there are 4 signs of that:
Your business is getting a hard time trying to get in sync with all the modern technologies.
Your team has consistent arguments regarding technologies to be used in the development process and it becomes distracting.
You do not have enough resources to hire an in-house CTO.
You are aiming for long-term solutions instead of temporary fixes.
Professional Services CTO: Main Features
The process of finding the right virtual CTO agency for your needs can take a while if you do not know what to pay attention to. To make things easier for you we created a list of main features that a virtual CTO agency must have in order to be considered a good one:
Strong portfolio. You should be presented with a piece of information regarding the company's number of clients, the consistency of the quality of their work, how many successfully completed projects they have, etc.
Positive reviews. It is without a doubt one of the most important aspects to consider while choosing an outsourcing vendor. If the company has quite a few negative comments about its CTO services, maybe it is not a good vendor to pick?
Language proficiency. With the creative agency services team CTO most of your communication will be in written form or through a video chat. That is why it is crucial that you and your vendor have a mutual understanding.
Pricing transparency. It is a good sign when the company's representatives are ready to explain everything you are being charged for.
Security. While engaging in a business relationship with an offshore vendor there is always a risk of a data breach, make sure that your outsource provider has solutions for that.
Key Destinations for Virtual CTO Agencies
Services of the virtual CTO internet marketing companies offer are getting more in demand with each passing day. However, as this particular niche is only growing, some destinations are still more promising than others. If you are curious about how to find a CTO for a startup or a full-grown company, here is the list of some key destinations to do so:
Ukraine. This country has recently become the top outsourcing destination in all of Eastern Europe. Ukraine has over 100,000 IT specialists at the moment along with one of the lowest costs for outsourcing services in the region.
Poland. According to the Statista report, the total turnover on the Polish outsourcing market is estimated to grow up to $2,311.7 million by 2021.
Vietnam. If you are looking for a big talent pool – Vietnam might be your choice. Needless to explain that this country's young population is extremely interested in working in the IT industry. This results in over 80,000 IT graduates annually.
The Czech Republic. If you are looking for considerable prices and a convenient location you might also check out the Czech Republic. It also has a high percentage of the English-speaking population.
Romania. It is a European Union country with a stable economy and a big talent pool, especially in the IT industry. Finding a good remote CTO in Romania would be relatively easy.
If you want your company to make the best out of its technological strategy then recruiting a virtual CTO might be just the right option for you!