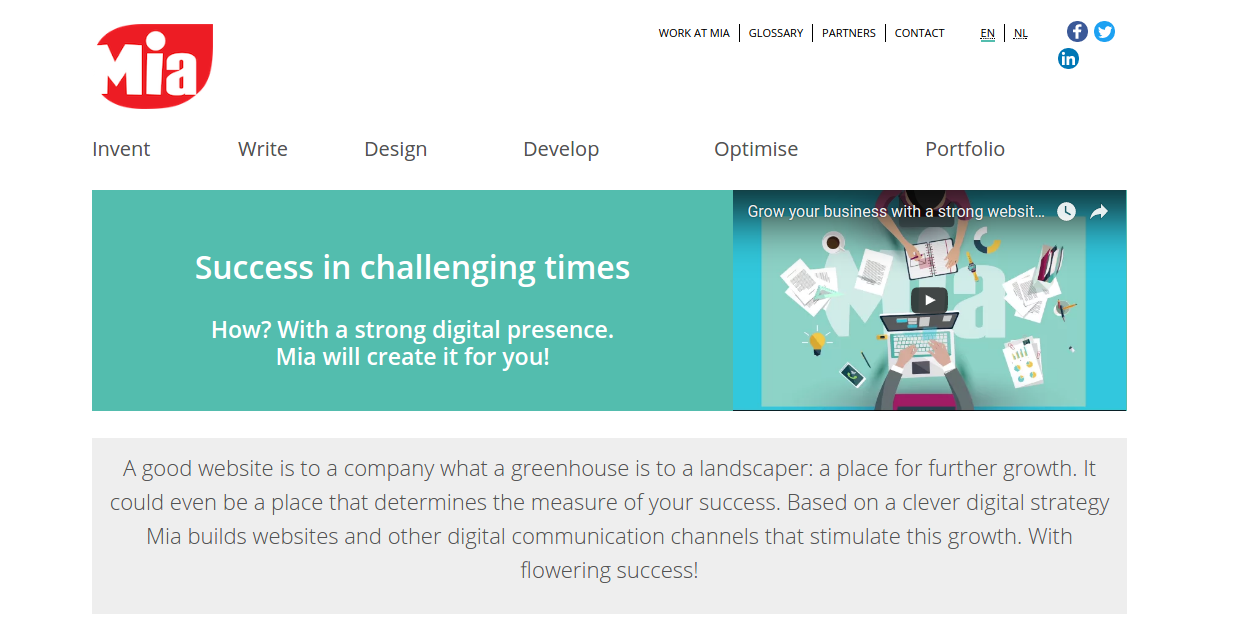 Creative Agency Mia

Country: Belgium
City: Antwerpen
Services Provided: Content Strategy, Web Design, Interface Design & Usability, Mobile, Apps, E-Commerce, SEO, SMM
Full Address: Frankrijklei 114 2000 Antwerpen
About the Agency
Mia is a digital strategy and online creative agency building sites and other digital communication channels stimulating the growth of client's business with great success. Mia invents the best strategy for client's site. To make profitable and functional online presence, there are few factors that needed to be considered. If you work with Mia creative web agency, you no longer need to worry about digital marketing.
If the clients already have a website, the agency's task is to examine it to make sure that it's used for its full potential. For clients that do not have site or any other communication channel, the agency will be the one to determine the best online strategy. The agency web designers are itching in creating a fitting and good design that will function as a sensory translation of the client's brand story.
If you are seeking for enthusiastic and creative team that always ready to sow seeds for clients to reap their rewards later, then you can get in touch with Mia. They are a full service that invents the best ideal strategy for a client's organization to achieve a great picture of their new site from online marketing up to the creation.
Short History
In recent years, Mia assists clients in determining their success goals and factors. They help clients in mapping out their visitors' web surfing behavior. They gather web statistics with the use of analytics tools such as Google Analytics in collecting needed information.
Choose the best creative agency for your online marketing campaigns today, learn more about Prophets!
About the Team
The team invents, develops, designs and grows. They are working hand in hand to make sure the best story for their clients and take into consideration the best design that fully functions to the client's company.
Services
They invent. Clients are unique and their site should be unique, too. In fact, no two organizations or products are the same, so neither is two sites, which means, the way which clients wants to present their business online or brand will be dependent on their view, the relationship they have with customers and their product. In short, it depends on client's story. This online creative agency finds the story as well as invents the best way in telling it to client's target audience.
Write: The agency will be the one to write client's content and they ensure that it is a qualitative and attractive web content that drives and inspires their visitors.
Content strategy: Drawing up a great content strategy is needed to write qualitative and attractive texts. They will be the one to determine the essential information. With the content strategy, one can make sure that the content will reach their intended audience at the right time and right place.
A quality copy is equivalent to quality site: The agency's task is to ensure that content is constructed in a way that it is search engine optimized, strategic, convincing and substantively strong. Qualitative web texts are essential for Google and other search engines because they look for search word combinations and keywords.
Tailor made for organization: If you do not have time to write your content, then Mia copywriters will be glad to write for you, and they can make sure that your website converts and convinces.
Design: If you want a greenhouse that makes guests linger, then user friendliness will be your key allowing visitors not to be lost and have the chance to explore freely. With the web designers of the agency, you can look forward to a tailor made design.
Usability as starting point: In creating a design that is user friendly and attractive, they need to consider the usability in designing the user interface. The agency thinks about the user experience and there are numerous factors they take into consideration in designing an application or a website.
Optimal on each platform: In the creation of web design, the agency creative aim for ideas that mix between innovation, creativity and user friendliness. The agency web designers construct for each goal and function that will always keep for usability.
Develop: If you want to entice, amaze and surprise your visitors, the agency will do it for you. They help you in holding and capturing your audience attention because they know what to do.
The agency assists and develops: For a user-friendly company, the development of attractive sites, e-commerce sites, informative websites as well as web shops, Mia can do all of these for you. Whether it is about optimization, fund-raising or online sales, they will take care of all needed things and assist you.
Tailor made development: The team of the agency quickly builds a client's greenhouse in the best way.
Grow: LinkedIn, Twitter and Facebook are well-known platforms in social media. With the team of the agency, they will find which the best is for the client's company.
Some Examples of Their Work



There you have the overview about the agency works, team and history. If you need their help, they are always open and willing to help you in getting the best project you want for your business.
Learn more about the online creative agency today!