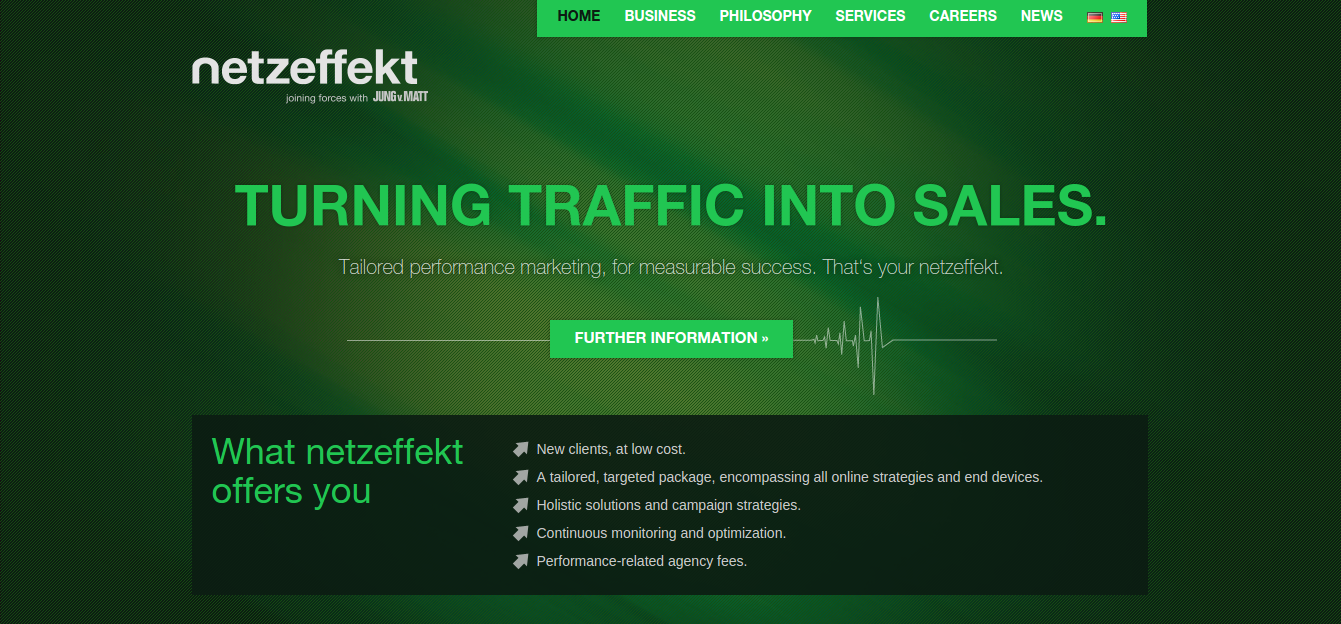 Creative Agency netzeffekt

Country: Germany
City: München
Services Provided: Analysis, Strategy, Implementation, Optimization, Consulting
Full Address: Theresienhöhe 28, 80339 München Germany
About the Agency 
Netzeffekt is an online creative agency that works as what they call focused, careful and effective when it comes to dealing with and handling resources. With networking, they are combining all the measures known as the entire sales cycle that will surely benefit their customers. Their main goal is to realize your goals and that is to win new customers and to keep them long term.  
The good thing with the creative media agency is that they thoroughly do research on each task as well as the surrounding environment before they begin developing all the measures. Netzeffekt understands that offers alone do not work well when it comes to performance marketing. Instead, they know how to create a voice that your audience will remember so that can realize that you're trustworthy. Their experience shows that it is better to invest in a customized production, and the agency has the 360-degree spectrum solutions. 
At a glance, the agency: 
Wins new clients

Combines and uses all online channels 

Designs holistic and tailor made solutions 

Advises strategic implementation and planning of marketing measures and digital sales 

Implements the best individual campaign professionally 

Analyze the before and after process of a campaign 

Includes all important terminals 
Short History 
In the year 2002, the agency was established in Munich. The fact is that their team has many years of experience when it comes to online marketing from consulting and analysis through conception to campaign management, programming, and creation.  
Looking for the best online marketing agency for your next project? Check out METZLER : VATER!
About the Team 
The agency creative was established with the combination of creativity and competence. Their team thinks entrepreneurially and consistently. Be it SEO or SEA, affiliate marketing or social media, whether app advertising or landing pages, they put an effort in creating your project for a measurable outcome. Their ambition is to seek the unique mix of actions and channels perfect for your needs.  The agency does not work alone and they are a member of Jung von Matt Group. They are a part of the strong network that is recognized as a creative agency that was voted as the agency of the year for the fifth time.
This is a company creative that does all what customer's needs because they combine all needed experiences and competencies of their team. They are offering all the essential elements to have a successful conversion strategy. Because they think consistently, customers can fully exploit cross-selling potentials, especially with agency's power modules that they divide it into 4 categories. 
Services 
Their intensive analysis makes sure that they will get to know you more, your products and your company as well. They make sure to give all the needed things for the success of your business. They identify the market potentials and examine the environment, they examine the possible interchanging opportunities as well as they scrutinize existing infrastructure of online and offline measures.

The agency develops their client's net-effect strategy. They make a great concrete suggestion, wherein all channels and steps you get are all effective to help you in reaching your goals. You can rely on them to win new clients and customers on the internet as well as to bind them completely. They make sure to turn traffic into sales as well.

They are looking for holistic and highly professional Netzeffekt implementation, building the best infrastructure and adapting to clients existing infrastructure. They are paying attention to every detail and they are taking the growing mobile devices and diversity of stationary into account. Since day one, they make improvements and work for your success. 

As their client's project progresses, their experience grows. Also, the chances of campaign successes and conversion rates are increasing and they are proud that many of their customers opt for them for the long term. They believe in long-term partnership, and they use their strengths, allowing them to compete for client's success. 
Search engine advertising: This type of service are Facebook advertising, affiliate marketing, and financial affiliate network, prospecting and retargeting, real-time display advertising, email marketing as well as the creation of landing pages and sales-oriented advertising. 
Net-effect consulting: It includes search engine optimization, strategy development for the digital distribution, social media monitoring and reputation management, analysis and enhancement of customer lifetime values, optimization of the digital marketing mix and web analytics and conversion optimization. 
Netzeffekt technique: The service includes landing page optimizer, attribution modeling, user journey tracking, ad-server, affiliate management suite, bid management, and dynamic landing pages. 
There you have the short overview about the agency. You can always rely on them for branding and digital marketing, which are tailored to your goals, needs and company structure.
Check out the online creative agency today!