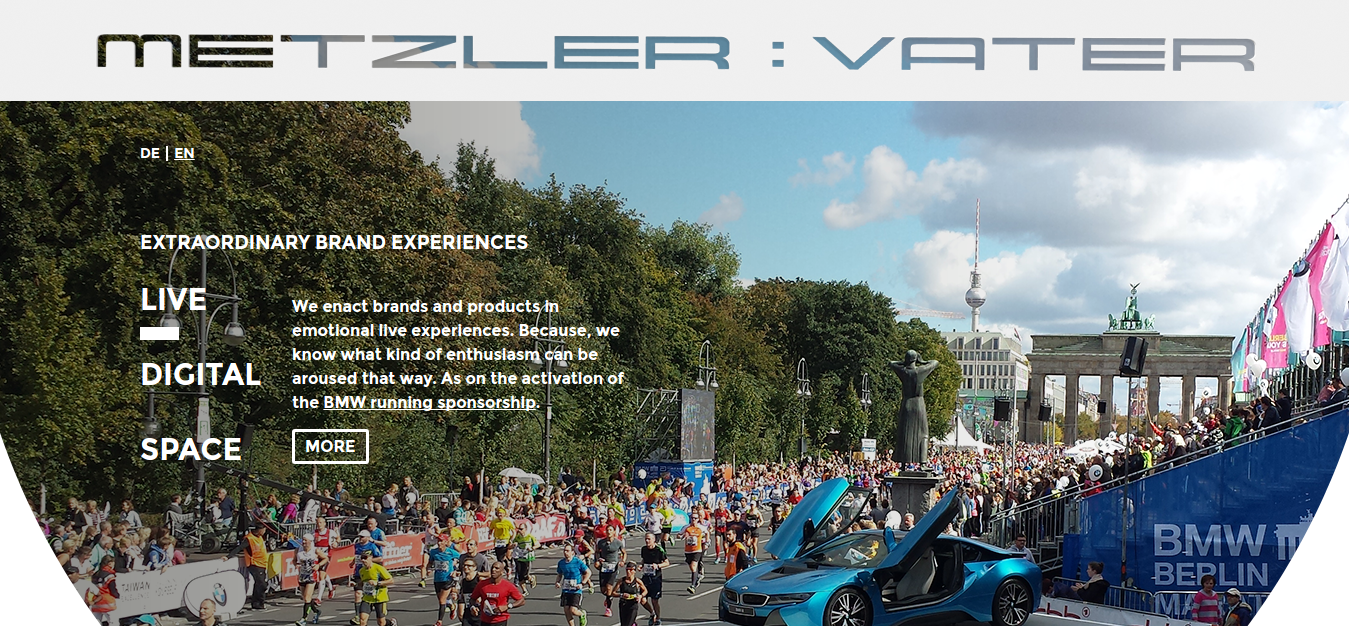 Creative Agency METZLER : VATER

Country: Germany
City: Zorneding, Düsseldorf, München
Services Provided: Events, Strategy, Media, SMM, Digitalisation, Concepts, Development
Full Address: Bredelaerstraße 71 40474 Düsseldorf Germany
About the Agency
Metzler Vater is an online creative agency that is making brand experiences extraordinary. For them, individuals are in motion. Target groups are also in motion, so they are taking brands to places where individuals are for live events, and they can create spaces for those people who meet.
The creative marketing agency is offering the brand projects for their customers. They make sure to activate brands where the individuals are. They believe that every individual is making decisions, so the agency deals with brands to inspire them as well as to help them touch their customers emotionally. They help create brands that touch the people.
Short History
The company creative has an office in Dusseldorf, River Rhine and headquarters in the River Isar. Over the years, they are doing their best to construct the best concepts and logistics for their clients and customers.
There are three different companies with specific expertise in taking care of the job at this online creative agency. One of them is "Albeit" that is operating independently. The agency creative has the commitment to sustainable action in all business segments and customers.
The fact is that they are certified by FAMAB as a sustainable agency. With the certification, they are recognized for a sustainable quality of their services and products and that do their social responsibility by committing themselves to act and think in an eco-sensitive manner.
Looking for the best online marketing agency for your next project? Check out Entermedia Group!
About the Team
Everything about their team is about the power of emotional live experience. Whether sophisticated logistics or creative concepts, their team will be the one to do it for you. Their experts develop extraordinary 3-dimensional spaces of experiences and spatial concepts that ensure to generate lots of attention, whether it's outdoor or indoor event construction, road shows, temporary structures or architecture. Aside from these things, there are great projects, new challenges and international customers that they are working with at the moment.
Services
This online creative agency has over 100 employees who are working daily to connect people. When it comes to their discipline, they are sharing the same goal of creating interactive communication.   Each of them works harmoniously with each other and helping one another to come up with a successful project for their clients. The digital experts at this creative agency develop concepts for the interconnected world. They are creating interactive platforms like mobile apps, social media campaigns and websites in conveying brand content in a user-friendly manner. 
Campaign realization and conception: This service includes social 

media strategy, strategy development as well as realization. When it comes to media production, it includes the process-supported digitalization.

Communication in space: They are offering event design, trade fair concepts, and temporary architecture. 
Live: This type of service includes events, incentives, CRM, congresses, and sports sponsoring. Live is all about the emotional power of experiences. No matter what the task is whether it is complex tasks or creative concepts, the team can handle it with excellence for the best results for their clients.
Digital: This service includes strategy development, campaign 

realization and conception, media production, social media strategy and realization as well as process supported digitalization. Their Digital team develops concepts and interactive platforms like campaigns that transform brand contents in the best manner as possible and make sure that they create messages worth sharing to your readers.

Space: This service includes communication in space, trade fair concepts, temporary architecture and event design. When it comes to space communications, their specialists make sure to build 3-dimensional experience and spatial concepts that give strong attention whether for an outdoor or indoor event construction and much more.
Some Examples of Their Work
BMW Berlin Marathon 2016 from METZLER : VATER on Vimeo.

Huawei HuaFan Tour Berlin "Heart of The Moment" Pop-up-Party from METZLER : VATER on Vimeo.
MINI JCW Performance Academy (Teaser) from METZLER : VATER on Vimeo.
There you have the overview of the company, history and some details about their team and services. Certainly, the company has a proven record of accomplishment in digital marketing and they have made things possible for their customers who wanted to make a name for themselves in the online world. With the successful campaigns, each tailor made for your business, you may be able to reach more of your target market and audience and create an impact on their lives in terms of how they perceive your brand. The above is only an overview of what to know about the agency – their services, team and sample works, but you may also want to check them out to learn more about what they can offer to you.
Learn more about the online creative agency today!