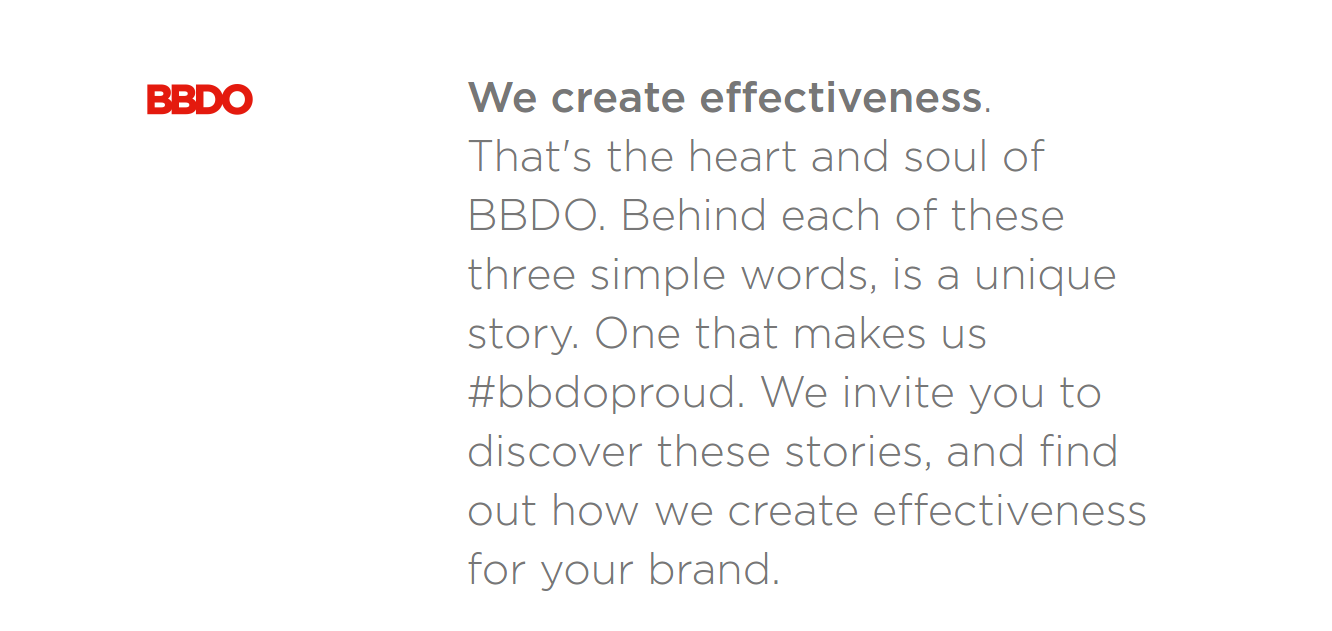 Creative Agency BBDO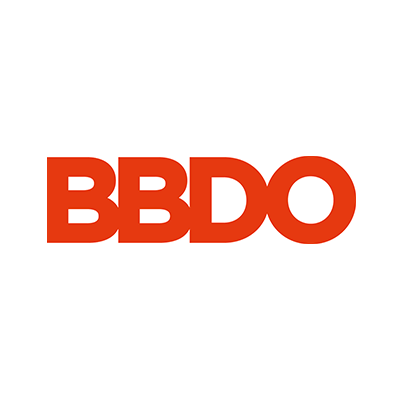 Country: Belgium
City: Brussels
Services Provided: Design, SMM, Inbound Marketing, Branding, Visual Communications
Full Address: Scheldestraat Rue de l'Escaut 122 1080 Brussels Belgium
About the Agency
BBDO is a creative agency and they have the commitment for effective creativity. They have a promise to make effectiveness. The creative development company also has the mission to make and deliver the best and compelling commercial content. For them, ideas and content are powerful and magical that it change the way consumers feel, talk, act and think about brands.
Belgium BBDO is famous for their proven record of accomplishment and they strengthen their eight centers of expertise: Data, digital, dialog, live, think, change, activation and one to one. Clients can work with one of their expert centers or work with their integrated team.
We
If the agency says "We", it means their clients and their team. Client's goals become their goals in changing the behavior and belief of their customers. They are making effective campaigns that needs special dynamic. They assemble their team of specialists covering each aspect of communication: content, social, development, and digital, events, advertising, DM and shopper. More than 100 clients of each size as well as industry get the benefits of their effective way of working.
EFFECTIVENESS
The agency has a long history as well as record of accomplishment in helping their clients. They are driven by their own methodologies and they nourish all creative processes with great insights. They are covering the buyer sphere and complete decision flow that results for a brand to perform better.
There is always SENSEO for clients
Senseo range a lot more colorful and it is varied that most individuals realize. The company creative always has Senseo that surely fits to clients perfectly. In illustrating it, the agency created Senseo universe in which the team sees the different combination that is being created. Their host introduces clients to this beautiful stylized world and gives the chance to win their own Senseo. In 10 seconds, all of it will be given to clients.
Short History
In the year 1891, George Battern opens a new advertising with one employee and no clients. In the year 1928, Batten Company merged with Durstine, Osborn and Barton to form BBDO.
BBDO is recognized around the world for their focus on "The Work, The Work, The Work". At the agency, their work encompasses each kind of creative content that touches consumers brand and reinforce brand. In 1971, the Belgian BBDO was founded and it merges with successful Van Hees-Vlessing-Lagrilliere in the year 1993. Today, the agency is a top three-communication group employing 250 professionals.
Choose the best creative agency for your online marketing campaigns today, learn more about Voice!
About the Team
BBDO welcomed their new creative team: Gertjan De Smet and Frederik Clarysse. Both of them have an extreme amount of sense in building further on legendary annoying hashtag "#BBDOproud". Additionally, the team loves to think outside the box, but they do not just believe in creativity to become creative because it includes smart media approach as well as well thought out strategies responding to how consumers look for details. Clients should not worry because the team will come up with the best creative insights that will surely make individuals act, smile and simply buy their brand. The agency team is always helping each other and ensures to work in giving the highest quality of project for their clients.
Services
The agency creative is a graphic design studio that is award winning, and they make sure to cater all the design needs of their clients. They are offering design direction, identity development and branding. They also design for point of sale, retail, brochures, collateral, packaging, interactive, motion and web.
The agency designs by heart. They love shapes, colors, grids, screens, paper and typography. They believe in brand communication, wherein it is the essence of what they do in helping brand communication with meaning and consistency to reach their target audience.
Some Examples of Their Work
There you have the information about the agency, its overview, history, team and services. There are many things that you will get with the agency if you work with them. If you are looking for a high quality project that created by enthusiasts team, then BBDO is a great option for you.
Finally, BBDO is a creative agency that is always available to help clients in having the best project they need for their business!