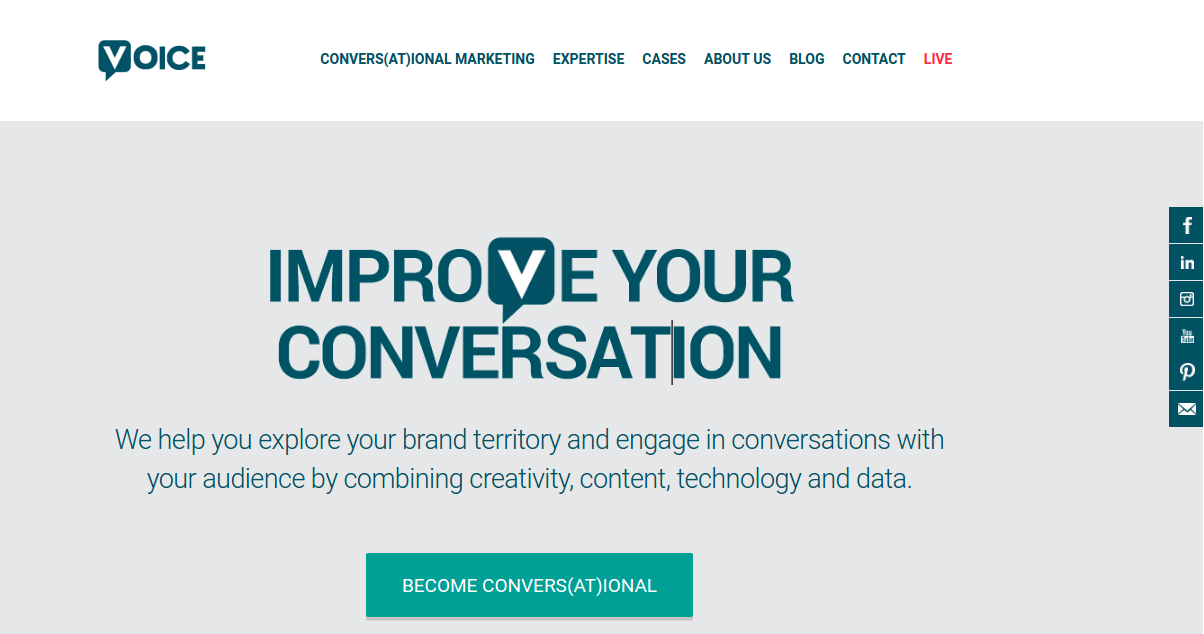 Creative Agency Voice

Country: Belgium
City: Brussels
Services Provided: Social Marketing, PR, Content Marketing, Strategy, Digital Production, Activation & Distribution
Full Address: 281 Avenue Van Volxemlaan 1190 Brussels Belgium
About the Agency
Voice is a digital creative agency that is based in Brussels. Their team of experts is specializing in PR, web marketing, conversion marketing, digital branding, and social media marketing.
Short History
This creative digital agency was founded in the year 2008 and they are managing online conversations for agencies that are ready to engage with their employees, bloggers, stakeholders, bloggers and customers. In making brands conversational, the creative digital agency uses social media.
Choose the best creative agency for your online marketing campaigns today, learn more about Digiti!
About the Team
The creative company team is all digital experts in web, PR and social media. They have:
Michel Culot: He is the CEO of the VO Group. He has a sense of adventure and elegant audacity. The best thing is that he always succeeds in exciting the agency team.

Chris Viceroy: Chris is the new business developer and project leader. She is always inspired and he leads on-going projects as well as spots their new client's needs. When it comes to taking things into the next level, she motivates individuals.

Julien Joxe: He is a project developer and he is a French living in Belgium. He manages social media projects for institutions in Europe.

Patrick Parmenter: He is the managing director and he is a great strategic consultant. He always guides their team of digital professionals in making sure clients are satisfied.

Hubert Canart: Hubert is the digital and web project leader. He always make sure that he takes design and web team to new heights as well as making sure to develop outstanding applications and websites for their clients.

Maxime Arcari: He is the community manager and when it comes to work, he is organized and reliable. Clients can always count on his creativity in social media.

Melanie Chamaah: She is the social media project leader and she has the capacity in developing magnificent content and social media strategies, whatever subject or project the clients want.

Pierre Visart: Pierre is the new business developer and he knows how to recognize certain needs for a broad range of businesses and particular requirements.

Julien Brasseur: He is the PR project leader and he has the mission in reinventing class PR to social PR.

Jerome Coppee: He is the web developer and he has the ability in customizing code for any web projects.

Elaxandra Curelea: In all communication challenges of clients, she always put her effort and energy on it.

Melina Mpotos: She is the community manager and always turn client's conversation to brightness.
Specialties: Some of the specialties of the agency include social media marketing, social PR, digital branding, web, online marketing strategy, conversational marketing, conversion marketing and content marketing.
Annemie Verschueren: She is the operations manager and she always makes sure the internal workflow quality in guaranteeing higher performing results.

Irina Chirsanov: She is the digital project manager and she accompanies their clients in project accomplishments.

Karin Cuppens: He is the community manager.

Laure Vandeghinste: He is the PR developer.

Bruno Borges: He is the graphic designer.

Sven Nijs: He is the managing partner and creative director

Gerard Steenhoudt: He is the graphic designer

Karel Goethals: She is the PR consultant.
Services
Strategy: The creative agency develops strategic concepts in making conversations effective for their clients. In this service includes,
Building conversation brand territories in social media

Online conversational in marketing strategies

Integrated social PR, social media, conversion planning and digital branding

Owned, paid and earned media strategy

Online content as well s thought leadership strategy
Social media: The agency is building durable and strong social media presence for different brands. The service includes,
Content creation

Community building and online presence strategy

Community management and conversion

Online monitoring

Social media advertising campaigns
Social PR: The agency challenge traditional PR with the social PR in getting better results. The service includes,
Contact and identify online influencers

Blogger and press outreach

Writing blogs and news releases

Social media newsrooms

Brand journalism
Digital: The agency optimizes clients brands present online. The service includes,
Build and design responsive sites

Games, widgets, banners and apps

Social ads, SEA and SEO

Web analytics

Database and emailing management
Conversion: The agency makes sure to convert fans, members and visitors to paying customers. The service includes,
Making online sales points

Traffic building in increasing followers, customers and visitors

Manage and monitor reviews, recommendations and ratings

CRM solutions to manage online interactions with customers

Increase online sales through coupons, promotions and targeted offers
Some Examples of Their Work



Whenever you need a digital project help, you can rely on Voice. They are well known in their expertise and they have numerous specialties that you can choose from.
Learn more about the digital creative agency today!