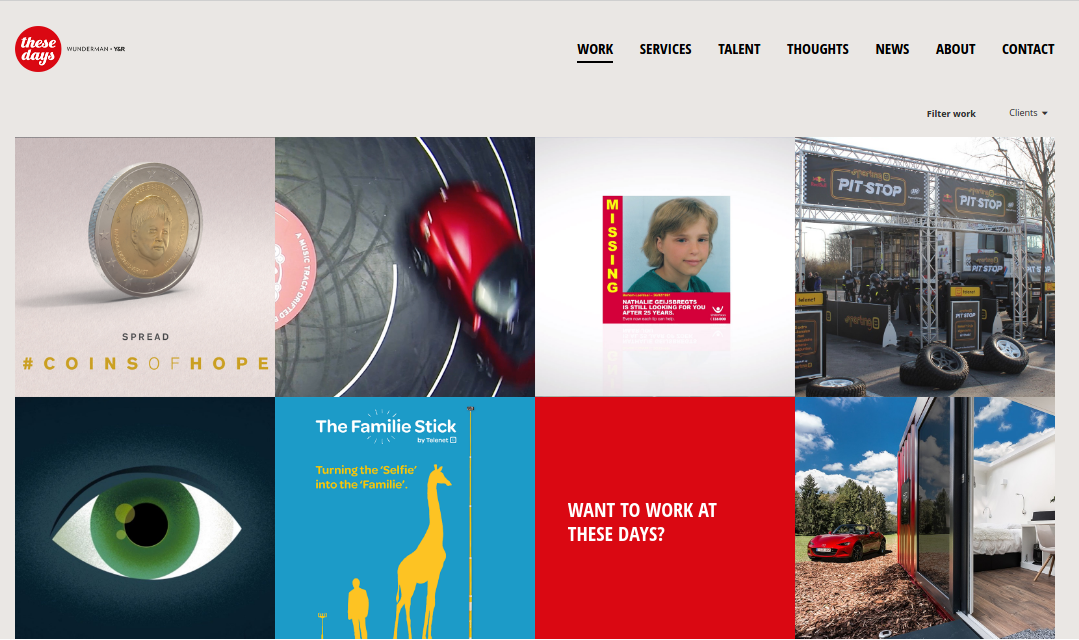 Creative Agency These Days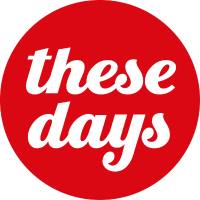 Country: Belgium
City: Antwerpen
Services Provided: Strategy, Creation, Production, Media, Analytics
Full Address: Generaal Lemanstraat 47 box 2, 2018 Antwerpen Belgium
About the Agency
Communication is fast-paced changing today. These changes challenge These Days, a creative company which expertise is recognized in the field of digital advertising, online marketing, and WPP-Network. The creative production company's objective is to build a bridge of communication between brands and their target customers while establishing a meaningful long-term business relationship.
These Days' foundation is to challenge the traditional ways on how things are done. This company brings out the innovation and creativity for every project it executes. The company believes that advantage belongs to the ones who dare to oppose what is common – the ones who have the strength to question and the integrity to resist.
Short History
Giovanni Canini and Erwin Jansen founded These Days in 2001 as an integrated communication agency. The company started with more than 150 employees and managed to deliver projects with outstanding strategy, media production, analytics and creativity. Among its early customers included Pioneer, Microsoft, Danone, Telenet and Bel Fromageries. It also worked with automobile companies like Mazda, Ford, and Bridgestone.
If you look for the best creative agency for your business today, check out Bananas!
About the Team
These Days aims to create working environment that stimulate ideas from its people. The company trusts its people and allows them to have the freedom at work. This is because These Days believe that business can generate ideas from its employees when they have the freedom to express themselves and improve their crafts.
The company opens its doors to diversity – as the matter of fact it one of the most diversity-loving employers in the country. It sees people with equal rights – no matter what color of skin they have, which nationality or gender they belong to, or what they believe in life.
Services
These Days is a huge creative web agency that offers wide range of online marketing services, brand consultation and management. It also offers its technology to clients who need its services. Among the services that the company provides include:
Concept and creation: These Days is focused on creating meaningful concepts and designs for its clients. It all starts by consultation – by understanding what your business or brand should look like, what do you want to achieve and who you want to reach. While you were sipping coffee in the morning, These Days are drafting the best concepts for your business and ways it will be executed in the market.
Concepts and creation also involves art and design creation, which the company has expertise on. It also comprises of series of copywriting and screenwriting. The company treats your brand like a rising movie star – it needs good packaging, great script to tell to the people, and a compelling characteristics to be patronized.
Strategy: These Days plans the best strategy that will work for your brand. It determines which platform or channel to use, what design will work, etc. Its strategy also involves SEO marketing, campaigns and content strategy
Production and development: This service involves email marketing, mobile app/game development, content and data management. These Days also designs mobile applications to help you get closer to your target customers. It also manage content being used in your websites to make sure that they convey the appropriate message to the right group of people.
Social: This includes designing social media profiles, community involvement, social media monitoring, as well as consultancy and training. With the majority of the market are hooked on social media, These Days deemed it necessary to introduce brands in these platforms as well. The company creates social media campaigns directed to your brand's customers.
Examples of Their Work
Among These Days lists of clientele and works include:



Creating brands is about finding the balance on putting creativity and innovation together. These Days is a company creative that can do it for you. This is the company that understands digital, the one that dares to be different and deliver what is beyond expected.
Discover more about a creative company today!