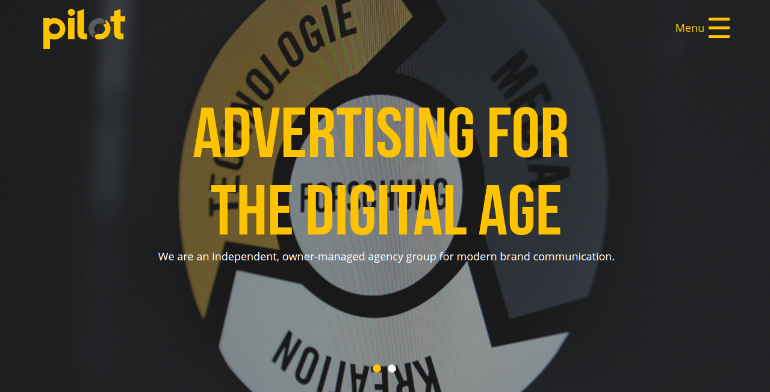 Creative Agency Pilot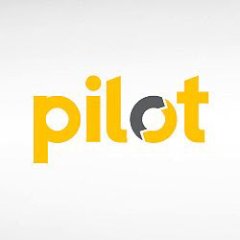 Country: Germany
City: Berlin
Services Provided: websites, advertising media, TV commercials, campaigns or content marketing concepts
Full Address: Pilot Rosenthaler Str. 42 D-10178 Berlin Deutschland
About the Agency
Pilot can be the creative agency you're looking for if you want an innovative and creative approach to growing your business and making your brand stand out in the global marketing sphere. They have a diverse set of talented professionals from each of their disciplines, making a formidable team that can bring change to your business in a unique way.
They use the dynamics and diversity of media environment to meet the current demands of your customers. They believe in the philosophy "from here into the future" – signifying their vision and mission to make your business adapt with the changing times from now up to the coming years. They help in designing communication for your customers whose habits are also changing fast as well. The team believes that keeping up with these changing media behavior of the customers are vital for a business' success. They make sure that their clients will be able to keep up with their customers in a rapidly changing business environment. Additionally, they also see to it the ideas will be unleashed and then they will measure brand success from there.
The team has garnered several awards in their industry. Some include the Red Dot Award (2014) as the "Communication Design Winner" and New Media Award (2014) as the "Young Lions Winner," among other awards from recognized bodies. Through the years, these awards have been keeping them motivated and inspired to deliver and meet their clients' goal of success. The company creative is composed of creative minds of the people who know how effective advertising and marketing work. They are superior in terms of advertising ideas, always coming up with unique plans that they can make use of for the advantage of their clients. They know the technology and media sectors well, and they know how to make use of both in executing their campaigns and advertising efforts for their clients. They also believe that when the three are in harmony – advertising, media and technology, campaigns and marketing goals can be more effective.
Short History
The Pilot company was launched in 1999, and since then have been working with their clients who wanted to make a mark, being remembered by their customers better in the internet world through digital and conventional media. They have creative and passionate individuals in the technology and media as well as researchers who are working with them closely. The team has offices in Munich, Hamburg, Vienna, Stuttgart and Berlin. With a holistic approach in marketing and advertising, the creative company can ensure that they can meet the challenges presented before them in the digital age.
About the Team
For the team to succeed, they ensure that every member is a talented and expert professional. Meet the team. Markus Kempf is the Head of Corporate Communications and Kristin Krohn is the Assistant to the Management Board. In Hamburg, their people include Jens-Uwe Steffens, Martina Vollbehr, Kramer Ulrich, Thorsten Mandel, Klaus Ahrens, Thomas Koch and Evelyn Lüttgens, among others. For their office in Munich, they have OliverRoth and Amedick Volkmar. In Berlin, they have Christian Inatowitz and Oliver Roth, and in Vienna are Andreas Martin, Petra Hauser and Ulrich Kramer.
These are their creative people with the talent, knowledge and skills in advertising and media. They are composed of seasoned professionals who have combined experience in marketing, digital advertising and branding. They can bring successful results for their clients with their innovative and systematic approach to their plans and campaigns.
The team is able to dissolve boundaries in technology, media and creation, as well as research so that they can make effective and advanced communication ideas for their clients in their respective industries.
Services
Brand communication and digital strategies: They can develop strategies and techniques in order to meet their client needs and make use of effective brand and digital strategies for results.
Web TV and branded content: The team is able to create successful campaigns through expertise in advertising videos and TV commercials.
Social media marketing: They offer conceptual design and content, as well as community management and monitoring for guaranteed results.
Conventional advertising: They can help convey your brand's message through TV, radio and posters, among other conventional media channels.
Websites: They can make your website more competitive through upkeep, maintenance and strategic consulting.
Research: They have a versatile team of researchers for effective brand communication.
Mobile marketing: They can customize your mobile website for better performance.
Technology: They invest in individual technology solutions for you.+
Creation: The team can develop creative solutions for your company.
Some Examples of Their Work
Krankenkasse
Radeberger Gruppe
24Techniker
Volkswagen Bank
Procter Gamble
Scout
Reemtsma
There you have what you need to know about the creative web agency. Head over their site and learn more about their offers on how they can help your business succeed online.
Hire a creative web agency today!