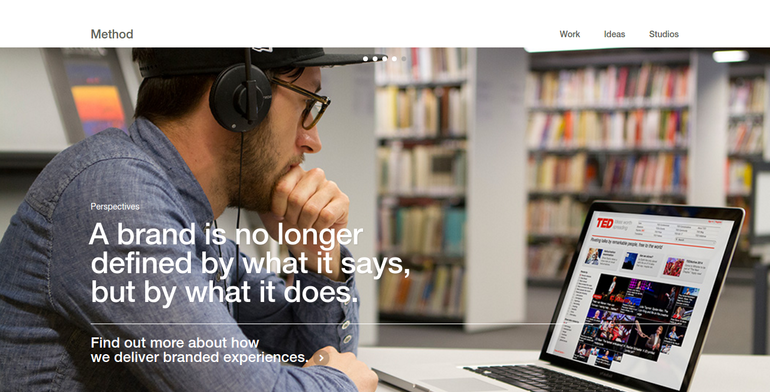 Creative Agency Method.com
About the Agency
Managing brand experience you need to know your customers and relationship they want. With Method, they design integrated experience that make sense to your customers across platforms, devices and touchpoints.
Short History
Method is a digital creative agency and they are a global organization having offices in Europe and United States. They are looking forward to get in touch with their clients and customers.
About the Team
The company is greatful because they have many talented persons who are helping each other for the success of this massive digital creative agency. They have Alicia Bergin as the managing director, Paul Colutier as the principal, Alex Mileyeva as the executive director, Steve Teruggi as managing director, Carsten Wierwille as the SVP general manager and others. In addition, they have Catherine Nygaard as executive creative director, Ryan Gates as design technology director, John Karlin as client service director and Roberto Veronese as the executive creative director.
Services
The company is a collaborative design agency and their approach is based on needs of their customers. Here are services that you can have for your business if you get their service.
Collaborative: They want to make sure that they will solve challenges. They are adaptive and flexible in making sure their work will fit to your context and needs. They are running projects with focused teams integrating their customers and clients through design process that created in some of their studios which include New York, London and San Francisco.
Insight driven: They synthesize and gather customer as well as market insight in order to inform their design process. They are using combination of quantitative research, market and data driven analysis with user testing and ethnography in giving design insights.
Work iteratively: This design creative company believe that best services and products shaped people. With it, they are taking their time to carefully understand business opportunity and challenge. After that, they are working iteratively in testing assumptions and hypotheses through user research and prototypes in order to continue test and build services and products that they create.
Consider big picture: To give the success of their clients, this online creative agency make sure that they consider different touchpoints as well as experiences. They ensure that new interaction will fit to customer overall experience.
Beautiful design: No matter what design, the agency ensure that their dedication is about crafting high quality of final work. They have the dedication to all details of design that deliver both function and beautiful form.
Design technology: With the use of insights, they make sure to create innovative products and collaborate with their customers in showing tem how development and strategic research can help them to manage their customers future.
Some Examples of Their Work
Relying with this company will help you a lot. If you want to have their help, you must know some details about their company, their services and examples of work. Knowing all of this is important so that you get enough ideas on what they can give to you.
Check out more about this online creative agency today!