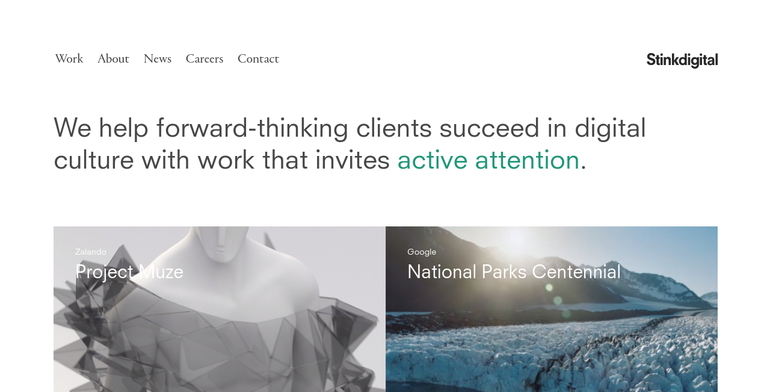 Creative Agency Stinkdigital.com
About the Agency
This digital online agency helps clients to become successful in digital culture. The fact is that they are one of the most awarded and diverse creative networks around the world. It is comprised of Stinkdigital, Stinkstudios and Stinkfilms that create interactive, original and film content for their clients across entertainment, music, advertising and arts. This creative marketing company is fortunate in working with interesting and biggest brands. They are the second most awarded agency production in 2015.
Short History
It is a global agency with local feel. In the year 2009, it was launched in London with small and trained team. As of now, they are one of the most awarded digital agencies and they have offices in Paris, Los Angeles, Berlin home and New York.
About the Team
Currently, they employ more than 100 full time staff across their five offices. If they combine their forces with their sister companies Stinkstudios and Strinkfilms, this creative company can offer creative, interactive, production and content abilities in 10 cities across five continents. When it comes to their staff, they bring wealth of experience from some of the formidable production start-ups, agencies and studios around the world. Their team gives their best all the time in every project they do. They make sure to complete all projects effectively and magnificent.
Services
This is a creative agency with core services that focus on four key disciplines.
Strategy: It is important to know that strategy is the foundation of each project. This means that it can be rooted in channels, audience insights, business or culture. The only requirement for this is that they need to be actionable. For this service, it includes personal development, research, social strategy, data science, and ecosystem planning, content strategy and brand strategy.
Creative department: Their creative department design, build digital and invents experiences and campaigns with equal focus on execution and concept. For this service, it includes branding, positioning, visual design, UX, campaign creative, copywriting, and scripting and product design.
Content: Whether it is about photography, nimble, copy, music or video approach, they will do the task for you. For this service, it includes photography, content creation, film creation, VR, 3D, motion graphics, animation, music, sound design and digital outdoor.
Technology: When it comes to their technology team, they ensure to deliver efficient code, beautiful and smartest ideas. For this service, it includes WebGL, JS, CSS, HTML, server side engineering, unity, gaming, native applications, CMS and platform builds.
Some Examples of Their Work
The Routes of Cervantes
Dublin Rising
Sky Q
Here are some examples of work that you need to know about this creative development company. It will be your guide so that you know how the agency deliver and complete each project of their customers and clients.
It is important to rely on an online creative agency that will give the help you need. You are lucky because this page presented some details that you need to know about this agency. Relying with them will help you a lot. You can get what you want. If you want to get in touch with them, you need to do it right now.
Check out more about this online creative agency today!