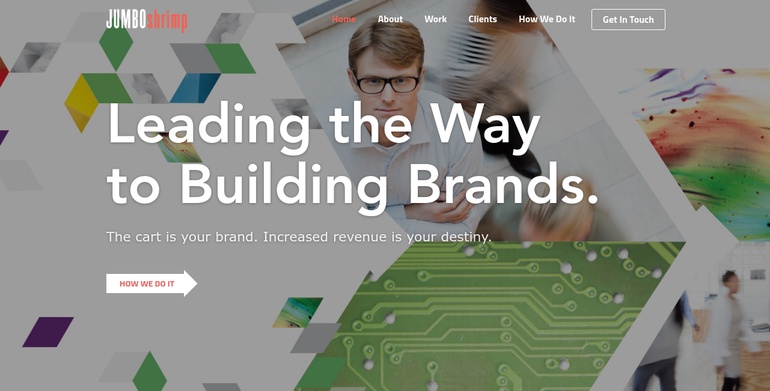 Creative Agency JUMBOshrimp.com
About the Agency
The JUMBOshrimp is a creative company that creating ideas driving business for some known B2B brands and consumers. They have the combination of creative vision and strategic insight that is focused on connecting each touch point of buyer's journey. With them as your partner, you can have long-term clients and customers.
The company gives clients big resources as well as talent. They make sure that their clients will have vast experience at the same time giving them breadth and depth services. If you call them, they make sure to give their best and unique abilities to work on your project.
Short History
The company was established to give the best resources to small and large companies. They ensure that their team will do their best in working with you.
About the Team
The team of this online creative agency includes Steffan Postaer is one of the best persons in the company. The team of the agency brings high level of passion and talent to build the best brand. They take personal approach and interest for the success of their business and brand. Also, they definitely excel at translating big ideas to successful campaigns as well as develop their story across marketing channels.
Services
At the company, they will help you to boost your revenue. Their focus is about making the best brand that will definitely grow their clients business. Here are some of the services that the agency offers.
Lead generation: Not all businesses can do lead generation, if you want to ensure that you get the best for your business, you can get in touch with the company to help you. This creative technology agency is an expert in this service.
Brand strategy: Branding is important for business to get results. For the best strategy, you can contact the company. Their team will let you know outstanding strategies to grow your business.
Mobile: The Company will let you to have access on your business with the use of mobile device. If you want to make sure that all applications can be use to access your business, then the help of the agency is what you need.
Advertising: Advertising is not an easy thing because there are many things you need to do with it. If you want to be sure that your business will be advertise around the world and effectively, asking the help of this creative company is a nice idea.
Social: Social campaigns are a challenge for some businesses because a business must need to ensure that his websites is well-known on some of the social media sites, which include Facebook, Twitter, Flickr and others.
Digital campaigns: Digital campaigns are important for a business. If you rely with this digital agency, you get what you want.
Some Examples of Their Work
There you have the information that will help you to know more about the company. It is not easy to ne engage in digital marketing business, but you are lucky because there are companies that can help you.
Check out more about this online creative agency today!