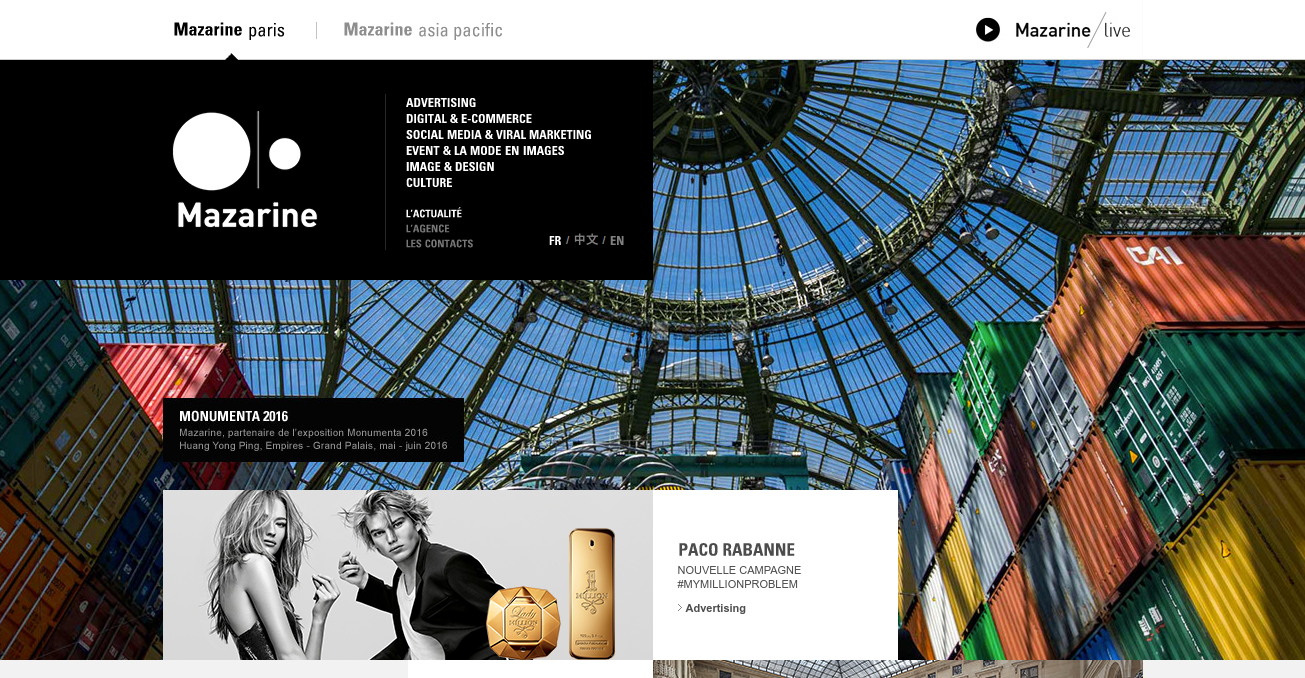 Creative Agency Mazarine

Country: France
City: Paris
Services Provided: Advertising, Design, Social media, Event
Full Address: Mazarine 2 square Villaret de Joyeuse 75017 Paris France
About the Agency
Mazarine is a French agency creative that reveals the personality and the light of a brand. It lets its story be known to its target audiences in a concise and precise manner. Mazarine aims to put your story in the public domain as to bring awareness to your target audiences. With this, the identity of the brand is divulged and it will be opening doors for its own evolution.
This integrated marketing communication agency is an expert when it comes to advertising campaigns, product designs, digital strategies, and event realizations. It accommodates brands from different sectors like culture, luxury, and premium ones. Mazarine takes note of their needs, demands, and everything they wish to be accomplished. The company combines knowledge and creativity to achieve this.
Some of Mazarine's clients are Caroline Herrera, Diesel, Muzo Emerald, Cartier, Hennessy, Yves Saint Laurent, Baume and Mercier, Bucherer, Repetto, and Lanvin. The agency has helped these brands when it comes to their advertising and marketing. And until now, they continue to avail the services of Mazarine.
Short History
Mazarine was created by Paul-Emmanuel Reiffers in 2000. The team is led by the founder himself as he stands as the President of the agency. The agency is now one of the most competent French companies when it comes to marketing and advertising because of its artistic touch and independent spirit that are reflected in its works.
Heaven digital communication company could be one more option to choose from!
About the Team
The creative design company is made of talented individuals. They have different expertise ranging from designers, directors, consultants, scenographers, to artists. There are more than 150 digital experts of Mazarine that come up with unique ideas, develop effective user experiences, and execute them from every area on which will give the brand an opportunity to grow successfully.
Some members of the team are Richard Verglas, Cyril Marin The, Quellec Denis Sallois, Frédéric Farrugia, Nael Hamameh, Johanna Worth, Olivier Massart,  Morgane Denis, Romuald Leblond, Catherine Frontiere, Stéphane Fournier, Laurence Mahé, Isabelle Vilgrain, Matthieu De Pond, Françoise Meininger, and Yvan Guglielmetti. You can check the rest of them through Mazarine's website.
Services
Digital and e-Commerce: The agency offers advertising services through the use of the technology. Mazarine helps you establish your E-Commerce Sites, Product sites, Brand Websites, and Events. It also creates applications for iPhone

,

iPad

, and Android. And it also makes In-Store

Applications

and responsive design websites. Other Subservices are Strategy & Consulting, Community

management

, Social advertising, EPR,

Storytelling

, Film, Pictures, Interactive Videos, Blogs / Magazines online, and Sound design.

Image and design: The agency brings the identity and history of a brand to its audiences nearer and clearer. The company manages events that are executed through its creativity, emotion, research, and innovation. Mazarine have the consulting directors, manufacturing managers, designers, and artistic directors who work hand and hand for this to be accomplished. Subservices include edition and image, design and packing, and Visual Identity.
Advertising: Mazarine continues to discover new experiences, methods, and aesthetics to convey fresh stories. This will be able to show the brand's global reflection and territory expression. This service includes Iconography Editorial, Territory of expression, Studies, Audit, Recommendation, Story-Telling, TV, digital campaigns, and Brand Content.
Social media and viral marketing: The social media is a powerful tool to accomplish brand goals. Your target audiences will be able to know you in an easy way through this medium. Mazarine emphasizes in on-line activation of brands like digital media campaigns and product launches. It designs social devices and brave trending creations joined with a data and performance. The sub services are Consulting & Strategy, Editorial Guidelines & Community Management Digital, RP & e-Reputation, Viral Videos, Media campaigns , Buzz on & off-line, Audit & Implementation of KPI Tracking & Monitoring, and the Optimization of actions.
Culture: Mazarine optimizes all the possible publications globally when it comes to Spectacle, Art, and Grandes Ecoles. It markets different events through its innovative ideas.
Some Examples of their Work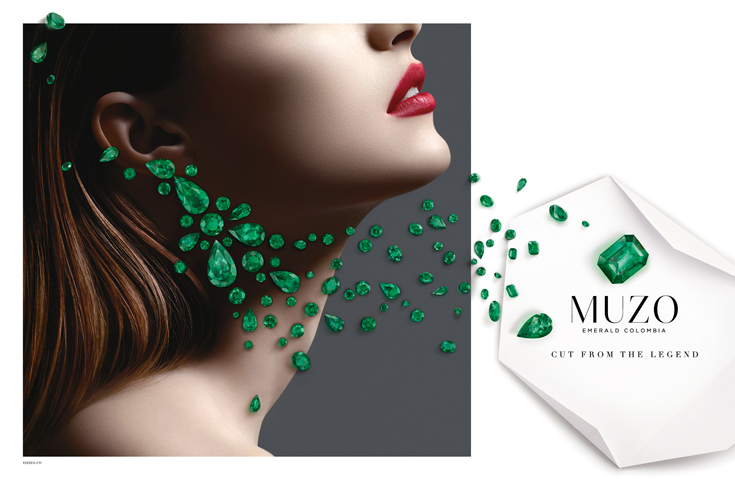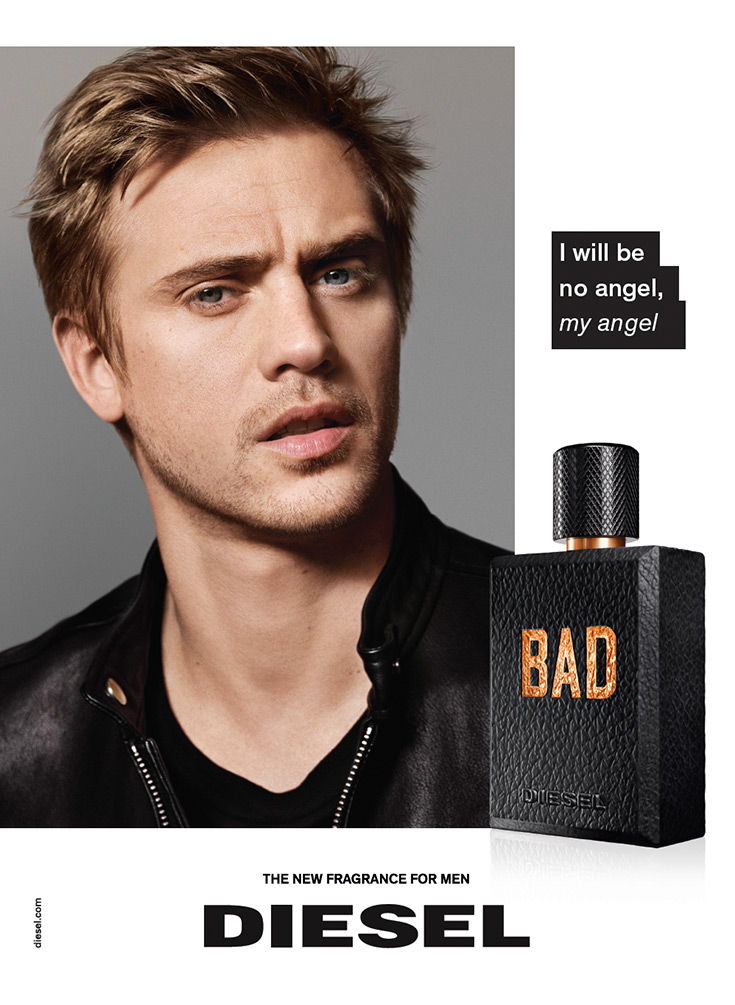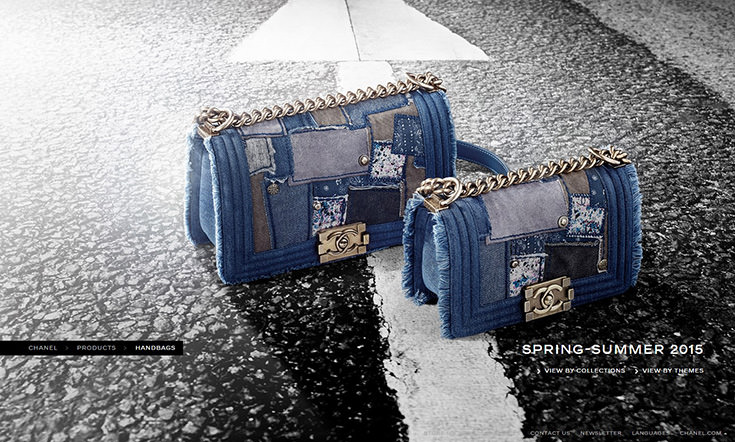 These are just some of the works of this digital creative agency. If you want to see more works of Mazarine, you can visit its website. This is just a glimpse of Mazarine, but you can check more its story and services by visiting its website. You can also follow it on Facebook and Twitter or you can also subscribe its YouTube Channel for more updates.
Find out more about the Mazarine agency creativ!