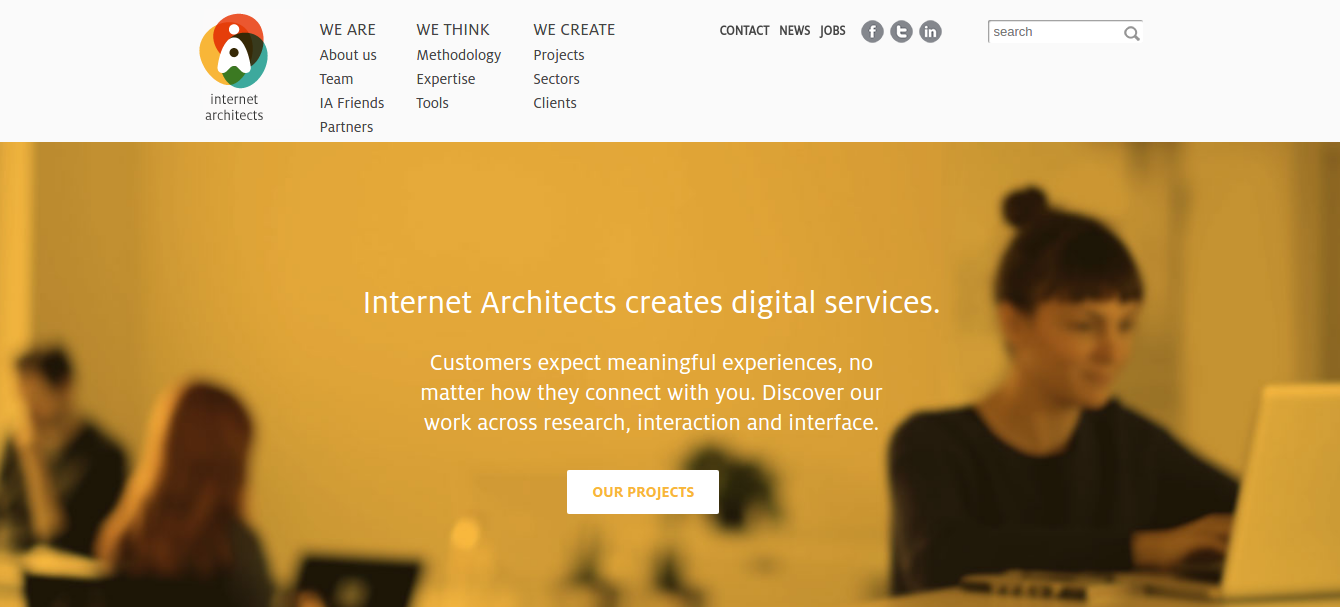 Creative Agency Internet Architects

Country: Belgium
City: Antwerpen
Services Provided: Digital Strategy, Marketing, E-Commerce, Customer Care Solutions
Full Address: Koningin Astridplein 41, 2018 Antwerpen, Belgium
About the Agency
Internet Architects is a firm that believes in durable and long term digital strategies. The creative communications agency caters to their customers need with a wide range of e-commerce, customer care and marketing solutions. If you are looking for creative digital agency that has expertise in implementing interactive user experience, then Internet Architects is a great option.
Methodology
The agency has a strong focus on user experience and online strategy. Their service is offering complete life cycle for their client's project from concept to inception as well as realization to design. If you want to reach your audience and have a clear digital strategy, the company creative can give what you are looking for. They help you in making online mission and vision crystal clear. They define services are about having a plan of action, which include benchmarking the designing concepts, writing client's strategy and prototypes.
Short History
In the year 2005, the founders: Erik Verdeyen and David De Block started sharing what they knew to their clients. They understand the requirements for business, technology and user's needs. They are born architects of digital designs.
If you look for the best creative agency for your business today, check out Dogstudio!
About the Team
Each member of this online creative agency shares the same passion for quality, inventiveness and innovation.
Strategists: They are proud that they have numerous brilliant strategists in their team. They have the ability in analyzing client's business needs. They make sure to turn present situation to great future success.
Concept developers: If you want to turn strategy into magnificent concept, you can always rely on their concept developers. They will be the one to create the strategy concrete as well as tangible for clients to adjust and judge the project as early as possible.
UX designers: The agency UX designers are the team analysts. They take all concepts and map all business goals according to needs of users. After that, they will create the best interface that will match the client's requirements.
Visual designers: Their UI designers and graphic designers provide clients the edge they need in order to stand out from others.
Front-end developers: Their developers have specialties in front end and they provide excellent insights about technical possibilities as well as pitfalls of numerous back-end systems.
Project managers: Their project managers do not stop until they have completed the client's project. The good thing is that they maintain direct content with clients at the same time ensuring that each member of their team will exactly do what the clients want.
Analytics specialists: Analytics is about measuring the failure or success of online presence. You should know that measuring is about knowing that is why the analytics service will offer clients the knowledge and tools they need in enhancing all aspects to make a great impact on businesses.
Services
Expertise is about experience, knowledge and skills. With these, the agency can provide confidence in approaching projects from different critical angles. The agency believes that client projects deserve their multi-angle approach, wherein they believe that clients' digital solution lies on crossroads of what the best for their business are.
Business: They are helping clients go from single to cross channel business with the combination of inside-out approach with outside-in approach for marketing, sales and customer retention.
User: Online world is not all about interactive communication because it can also be a reason to drive changes in the society, and it is also the most significant tool for agencies in reaching their customers.
Technology: Digital presence should be accessible all the time using tablets, Smartphone or laptop. The agency makes sure that clients will be accessible through using gadgets.
Tools
The in-house development tools of the agency help them focus on what matters the most. It makes their technical work faster and easier.
Prototyping: Their prototyping tools will visualize clients' project concepts and strategy quickly and easily.
UI design: User interface for apps as well as content sites are being built with same interface components. The agency creates and uses a UI components library to avoid repetitive works.
Centralizing content: The agency is using web-based tool in creating and collecting content centrally.
Front-end templates: They are using templates in turning graphical design to JavaScript, CSS and XTML code.
Some Examples of Their Work



There you have the information about the agency history, approaches, methodology, services and tools that they are using to make the client's project effective and awesome. Anytime, you can always get in touch with the agency.
Hire a creative digital agency today!