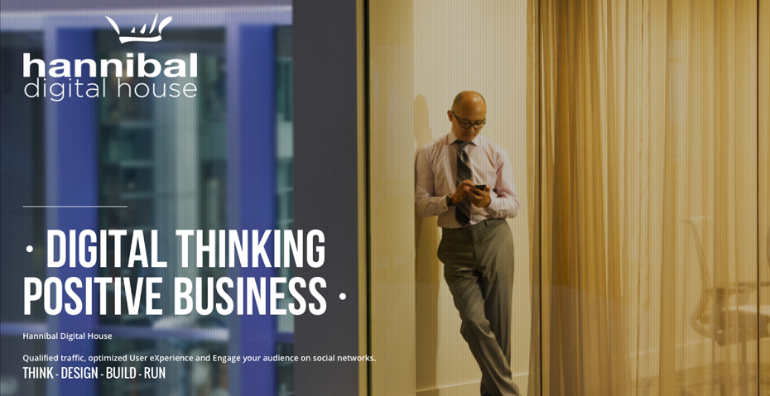 Creative Agency Hannibal

Country: France
City: Paris
Services Provided: Digital strategy, Inbound marketing
Full Address: Hannibal 40 Avenue d'Italie – 75013 PARIS France
About the Agency
Hannibal is a digital communication agency. They design and they shape your company for a significant purpose. For them, if the purpose is so clear, then the design is also clear. They also love innovation allowing them to rethink set of tools as well as think how to use it. You are guaranteed that this creative digital marketing agency does not just come up with basic stuff that client already knows.
In addition, the digital creative agency loves a positive business that is why they work as digital agency because they can design solutions that innovate each day. They make sure to give client's a positive business all the time. What they offer is 10,000 leads for their clients, 61 ideas for each minute and they are using 230 post-IT/project and below are what to know about it:
Business focus: 95%
Data driven: 90%
Design passionate: 90%
Hungry minds: 95%
Short History
The creative company has headquarters in France and it was founded in the year 1911. Since then, they have made big contributions to their clients. They helped them a lot with their project.
Fullstack is one more marketing firm that can provide you the finest services!
About the Team
The team of Hannibal is about one up to 10 employees. The best thing about their team is that they are working hard to give what you want. Their team can provide you with,
Copy strategy: Social media and digital strategy, multi-screen and ecosystem architecture, domain name park
Advertising: Display and creation banners, strategic planning, Facebook ads, media and terms of reference, SEO, Facebook ads, Adwords, newsletters
Sites (mobile and apps): Development, writing, tunnel and conversion design, editorial and technical optimization, maintenance and hosting
Social media: Community management and curation, viral mechanics, features YouTube, LinkedIn, Twitter and Facebook
Services
Digital strategy: In this service, which is based on workshops and data analysis, they give new challenges opportunities to client's digital ecosystem. They make sure that you get more customers.
Drive traffic: The agency audience said that they are seeking for the best combination tools in order to give profitable traffic to their sites, social networks and apps. They make sure to optimize prospection costs.
Collect leads: They ensure a full UX and design thing process to build great and competitive sites and apps that guarantee to convert their new business. The agency ensures to level up their client's sales and leads.
Problem solver: The agency said that digital transformation caused bother between departments that is why they share their experience as well as coach all management. They run Traffic SEO and SEA: They are Google partners and they collect numerous leads, drive profitable traffic.
UX-websites and apps: User experience is the master key in order to overcome competitors. For example, could you imagine a large advertising campaign, a very expensive one that faster and unlock difficulties?
User funnel optimization: It is the same like water that runs inside pipes and whenever the junctions are not sealed properly, water drops off.
Data analysis: The agency thinks, designs, builds, runs, and analyzes data. Without the data, ideas can be just an option. For the agency, analyzing their client's data will give them real

the best recommendations on their next strategic moves and give the real time corrective plans.

Digital transformation: The creative web agency change the way they change their organizations. For them, the greatest achievement in an agency is about not only figures, but also all it should be made of emotions and flesh that is why change will not become successful if they think about best tools they will get, but it should be thinking about their users who are the people.
They drive numerous people to magnificent shop, but there is no seller. This will be the same thing that will happen when brands invest money in advertising, but not on the site. Keep in mind that your site is your seller. The job of the agency is to make websites with sellers and they will make sure to give the full UX process.
Some Examples of Their Work
Edenred
BB's Jar
Financiere pinault
Hannibal is a great company that offers many services to their clients. They already have proven their excellence in the industry and you can always visit their site anytime you want if you want to get in touch with them.
Learn more about the Hannibal digital creative agency today!