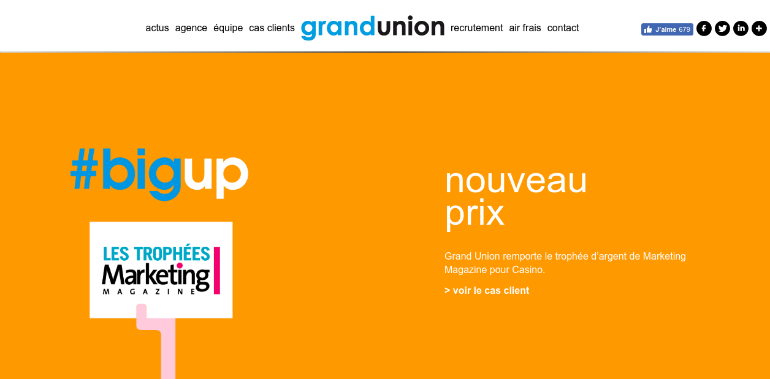 Creative Agency Grand Union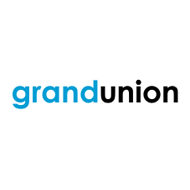 Country: France
City: Levallois Perret
Services Provided: Digital marketing, Creative design, User experience, Strategic planning
Full Address: Grand Union 155 rue anatole 92300 Levallois Perret France
About the Agency
The Grand Union is a company created that believes in the value of technology. Technology is valuable. It never considers it as neither an idea nor modernity. The agency treats technology as a tool to allow experiences to be shared. But such tool is only valuable if it can be controlled and if it is simple. The creative digital marketing agency represents the new generation of marketing and advertising in five places. The Grand Union is found in England, Portugal, Spain, Italy, and France,
This international network is a 100% owned agency of Fullsix Group, which was recognized as the 2012 Independent Communication Group. The Grand Union bases its services with the creation of customer relationship agency. It centralizes strategic thinking, business intelligence, and creative excellence to make your brand relevant and appealing to the market.
The Grand Union has strategic plans appropriate for you. These strategic plans will enlighten you with the path directly to innovation. The agency has a team of consultants headed by the managers to give your brands ambitions and visions, and stick to them. You will also be able to know the digital challenges that your brand may meet in the future. In this case, you will be able to prepare your brand for its survival with the complexities in the digital world.
The agency works with clients who are in search for fresh marketing and advertising methods. Through Grand Union's communication and marketing strategies, it is easier to reach consumers with efficiency, interaction, and business intelligence. Some of the clients of Grand Union are Louvre Hotels, L'oreal, SNCF, Coca-Cola, Chanel, Bonduelle, Vichy, DOP, and Van Cleef&Arpels. The agency has won the Silver Magazine Award for its project with Casino. The agency keeps on improving its services for its present and future clients.
Short History
The Grand Union was founded in 2005. Today, the agency still works with its currents and established clients. And it still offers its services to brands, which are looking for a new generation of marketing and communication strategies.
Check out all the essential info about SENZO agency!
About the Team
The agency is composed of about 250 digital experts who are strategic and talented. The team is a combination of senior marketing and digital native agents. Philippe Huot-Louradour is the CEO of Grand Union. Felipe SJ is the designer of Grand Union. The copywriters of the agency are Mariana Machado and Carolina Alves. If you want to meet the rest of the members of Grand Union's team, you can visit its website.
Services
Vision & strategy: This company creative makes it a point to know your own vision. In this way, it will be able to know the path you want to take. Your success matters with the Grand Union. This is why you have to be open how you want your goals to be achieved. From your history and vision, strategies come. These strategies will not only be useful in the beginning but until you can successfully stand on your own. The sub-services are Strategy Digital Social, Strategy, Strategy Marketing Synchronized, Platform Brand 2.0, and Acceleration Digital and Coaching Change.
Customer value: This service means that your customers will be evaluated and analyzed. Your vision should meet the needs and expectations of your own customers. The sub-services are Consumer Studies, which are both qualitative and quantitative, Analytics, Data and Performance, and Follow-up of E-Reputation.
Branding & media: Branding is necessary for your own visual identity. Your brand should be projected distinctly from your competitors. Media is a powerful tool for the exposure of your brand's identity. Grand Union covers integrated advertising in mobile, radio, TV, press, display, or online. Other subserviences are alternative media, purchasing social marketing, content and events, e-commerce and acquisition of performance media.
Other services: These will promote your brand's identity, development and strength sustainability through e-commerce, marketing relational and CRM, website, platform, and applications, and marketing mobile and retail marketing.
Some Examples of Their Work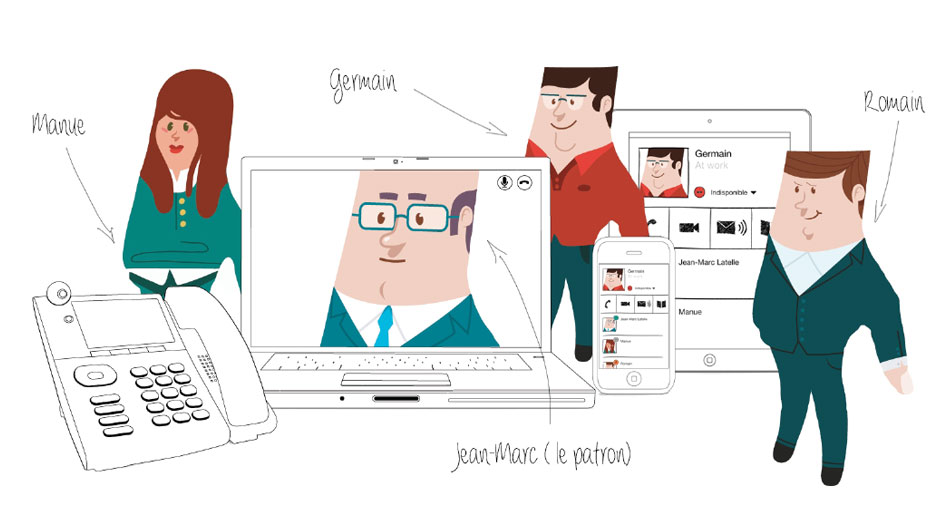 This is just a fast look of this creative web agency. If you are interested in the Grand Union, check its website and social media accounts for more information, news and updates about the agency, its team and its services.
Learn more about a company creative now!