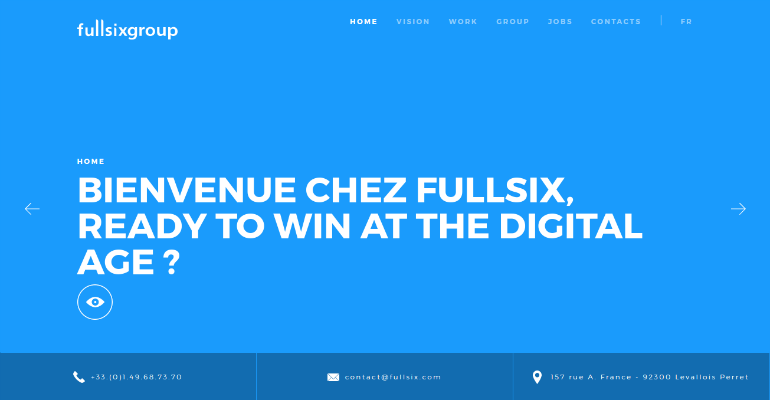 Creative Agency FullSIX Groupe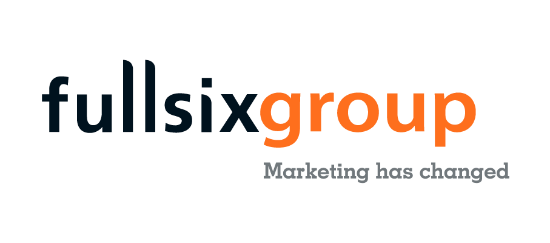 Country: France
City: Levallois-Perret
Services Provided: Full services, Synchronized marketing, Digital, Data & DMP, Analytics, Retail, Search, Advertising, Media, Start up, Online Video, Social networks
Full Address: FullSIX Groupe 157 Rue Anatole France, 92300 Levallois-Perret France
About the Agency
FullSIX Group is an independent European Group of Marketing and Communication consultancy that is leading in the nation. The philosophy of the group is to become one of the leading European communication as well as marketing consulting around the globe. The creative marketing agency puts data and digital at service of its clients "performance on all advertisers" needs. Some of their customers include Aramis, Samsung, Wacom, Coca-cola, Passionata, L'Oreal, igloo, BNP Paribas, Natixis, murex, Total, Cacolac, Merck Sharp, General health, Bayer, Sanofi, Dohme, Pure, Chanel and much more.
Here is also a list of their awards:
Cristal festival
E-commerce awards
Trophies digital industries
Brand prix marketing strategies customer
ADETEM: marketing excellence award

COM/ TOP consumer
ADETEM: Award of excellence marketing B2B
APP awards shortlisted
Night of ROIs
Marketing trophies
Short History
It was founded in the year 1998, and the group is operating 20 agencies in 11 countries on four continents have thousands of employees. The creative agency places data and digital at the heart of their client performance for all needs of advertisers:
Brand and advertising
Data and insights
Analytics
Strategy and media buying
Digital

e-Commerce
relationship
Instore experience
ROPO
Traffic generation
The online creative agency was founded in the year 1998 and they digitally deeply transformed customer usage as well as relationship with brands. Today, more personalized, more complex and more fluid, and brands have the chance to make their marketing more efficient and to make communication more reliable. At the agency, they have been continually reinventing themselves to serve all needs of brands at Digital Age.
About the Team
They are helping their customers to increase their performance dramatically by using data centric and digital strategy to synchronize their communication with customers systematically. They have 510 up to 1000 employees that are working for their customers in providing the best project. In order to serve all needs of customers, they internally integrate over 1000 creatives, dataminers, engineers and consultants. Their integration in Havas Group allows them to develop the approach at international level.
Services
Marketing synchronize
Full services
Analytics
Digital
DMPO
Data
Search

Retail
Media
Advertising
Reseaux sociaux
Video en ligne
Startup
Full services
There are still more services that the agency is offering to their clients. Visiting their site will help you to know more details.
Expertise in the field: The group orchestrates and develops the complete marketing communication and mix based on the multichannel interaction that is centered on the consumer: direct marketing, advertising, interactive advertising and marketing, e-CRM. They are a new generation of full services:
Digital has

profoundly

changed consumers

All screens and channels become interactive and digital
A new marketing culture: agility and measurability
A true integration: marketing, technology, innovation, and business
More synchronization and sense in increasing ROI
A strategic planning that is based on data and facts for more meaning

Digital as strategic heart and not just a simple additive channel
Synchronized actions in real time via consumer data and analysis of results
Making innovation simpler for them
Customer's innovation at heart of marketing and business objectives
Marketing strategies and brand platforms adapted to digital era
Advertising, media, acquisition, and content
Relational, mobile, digital and social
Marketing: Websites, e-commerce, applications and platforms
Some Examples of Their Work
If you want to get a sneak peak on the works of the agency, you can check out these samples. It will give you ideas on what you will get. Depending on what you want, communicate with the agency and their professional team will be the one to create your project.
FullSix Group is one of the amazing agencies around the world that you can check out online. They have many services and offers for the best of clients and they are working hard to produce the best project for their clients whatever it is. They make sure to exceed the expectations of their customers and clients. Finally, if you want to work with the agency, you can always check them out by visiting their website to get a list of their services, offers, samples and others.
Investigate more about the creative company FullSIX Groupe!