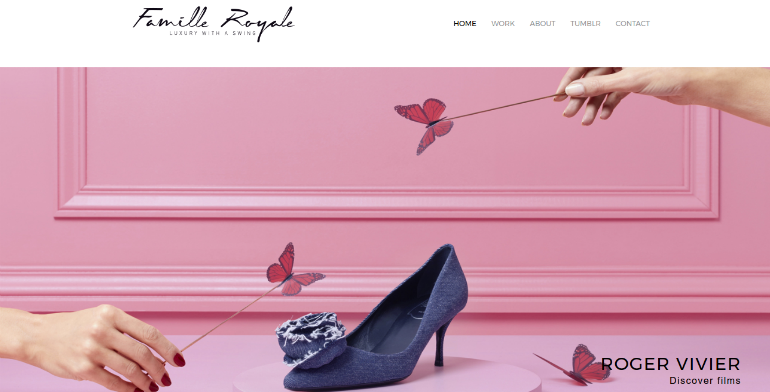 Creative Agency Famille Royale

Country: France
City: Paris
Services Provided: Brand content, Digital, Creative, Storytelling, Fashion films
Full Address: Famille Royale 16, boulevard Saint Denis 75010 Paris France
About the Agency
Famille Royale is a digital creative agency that guides and directs a brand to a path for the development of its own identity and territory. It is a Parisian creative and strategic shop focusing on global-scale services and combines the creation of an innovative content and a valuable touch to its projects. The agency's target audiences are luxurious brands. Some of its clients are also in the sector of media, beauty, art, ready-to-wear, and delicatessen. Its tailored-advise and expertise when it comes to architecture and creation meet the needs and wants of its clients. This video production agency holds on to its principle, "Luxury with a swing." The luxury brands are revealed with definition and persuasion. In this sense, people will gain interest to them.
Famille Royale is a hybrid agency where creative ideas are implemented. It is also a place where discovered and diffused strategic trends are produced. The goal of the agency is to bring creative, relatable, and digital experiences to its clients. The agency listens to the stories of its clients. It coordinates with them; hence builds a mutual understanding. With this, Famille Royale will be able to understand its clients clearer and execute its works efficiently basing on what they tell to the agency. The company and clients create a benchmark for the development of strategic platforms, definition of authentic campaigns, production of specific materials, and analysis of its customers' competitors. Some of the clients of Famille Royale are Devialet, Chanel, Smythson, Louis Vuitton, New Now, Hermes, Schiaparelli, and Roger Vivier Paris.
Short History
This creative marketing company was founded by two brilliant minds. They are Edouard Delage and Anne-Charlotte Hartmann. Famille Royale has been in the industry for ten years. This is why it has already developed weapons of communication in both advertising and design. It has been an independent company, which seeks to go beyond what is trending. It discovers new things that are not really known to the public yet.
If you need more variants to choose from, take a look at Equinoa firm.
About the Team
The team is led by the founders themselves. Delage works as both the creative director and filmmaker. On the other hand, Hartmann is the strategic planner of the agency. Sometimes, she is also a creative writer.
Services
Films: These are powerful media to reveal the identity of your brand. They are both informational and entertaining for your audiences. Famille Royale makes films that will highlight your brand's features. The films produced

 also will unveil your story to your audiences. It will turn your history into reality. The agency can do a single film or a series for a brand. The film depends on what approach you will like to take. It can be the traditional or modern presentation. Famille Royale can help you in choosing it in the

case

of doubts. The agency only uses what is appropriate for you. Film services include strategic planning, 3D, Illustration, and music scoring.

Strategic planning: Famille Royale listens to every detail of your story. From your story comes ideas how to carry out your goals. The strategic planning service of the agency is not only for a limited period of time. Strategies by the company deal not only with the short-term goals but also for the long ones.
Events: These are also powerful ways for advertising and marketing. It will make your brand more reachable to people. With events, the public will experience your brand. In that way, they will know more about your brand, and of course, they will purchase it if you got their interest.
Content: The internal of your websites and social media accounts should be relevant, informational and engaging. This is why Famille Royale includes content in its services. With content services, the agency will help you to segregate what are necessary and unnecessary details to include. This will also help in preventing confusion from your audiences. The content should be as strong as how it looks externally and better if it is stronger.
Design: Famille Royale creates designs that are only appropriate for your brand. The designs are a reflection of your company's identity and personality.
Media advertising: This is necessary because people live now in the digital world. Technology became one of the needs of men. And technology is manifested through gadgets like computers, laptops, cell phones, and iPads. These forms of media cater a bigger audience. This is why many brands have to be advertised online. So, Famille Royale makes it a point to bring your brand's story in an easier access through its media advertising. It makes applications and also the website to accomplish it.
Some Examples of their Work
This is just an overview of this company creative. You can check more of the agency and its services on its website for more information to help you decide if they are what to hire or not for your digital campaigns.
Check out more details about this digital creative agency today!