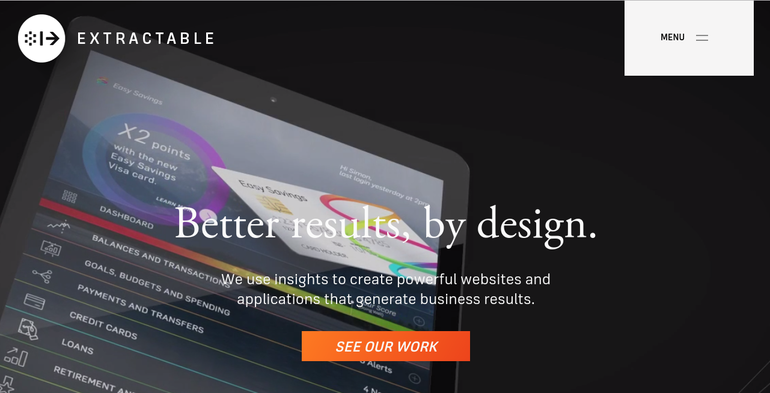 Creative Agency Extractable.com
About the Agency
Extractable is a digital creative company that gives wise perspective. One thing has never changed in the company and that is their focus to help customers gain competitive advantage in digital channel to get the possible results.
They take their work seriously to give positive results. For them, there is no other way in measuring impact of their collective efforts. This is a creative agency that have internal goal in generating excess billion dollars by the year 2018. Every engagement represents new opportunity in moving closer to their goal. For their client, they make sure that the benefit in reaching the goal. When it comes to WebPages, they already published more than 250,000. They are expert in delivering digital strategy. For growth, they grew 37%. Even though they are proud of results they achieved for their clients, they work have been recognized by experts and industry peers more than 250 times. One more thing is that they specialize in delivering the best digital transformations for healthcare, green energy, B2B technologies and financial services. They are proud in building good relationships displaying their strong partnerships.
Short History
For the past years, they ensure to measure impact of their collective expertise when it comes to digital transformation. Whether to create or redesign website, they always been performing a good business performance.
About the Team
The company is hiring qualified persons to become part of their team. They are looking for creative director and account supervisor. Regardless, the team of the company is expert and powerful helping clients to get what they want. They pride themselves in having long term relationship with their customers. They make sure that they have strong partnership with all of their clients.
Services
Digital strategy: Digital strategy uncovers advantages and solves challenges and that is what the company will give to their clients. They make sure that all the advantages that digital brings will be provided to them.
Discovery and research: Digital strategy bring design disciplines and digital experience to bear content strategy, analytics, technology and visual design in presenting the best picture of opportunities and challenges. They will identify the KPIs that needed priority. Everything that should be done will be their priority.
User experience: In each digital experience, user is important. The structure of the company is built with strategy and UX. To deliver results, they need to understand what motivates their clients. They begin embarking primary research to deliver the best user recommendations as well as actionable personas.
Content strategy and development: Online contents are important in sales assistance and nurturing.
Visual design: The company's creative printing services ensure that you get awesome emotional response on your brand for your audience to be engage.
Technology: With partnership with UX, analytics, design and digital strategy, they make sure to bring to life the digital experience.
Some Examples of Their Work
Micron
Keynote
Bank of Oklahoma
Energy upgrade: California
Getting in touch to the creative agency will help you a lot. If you want to get everything you need for digital marketing, contacting the agency is a good idea.
Check out more about this online creative agency today!