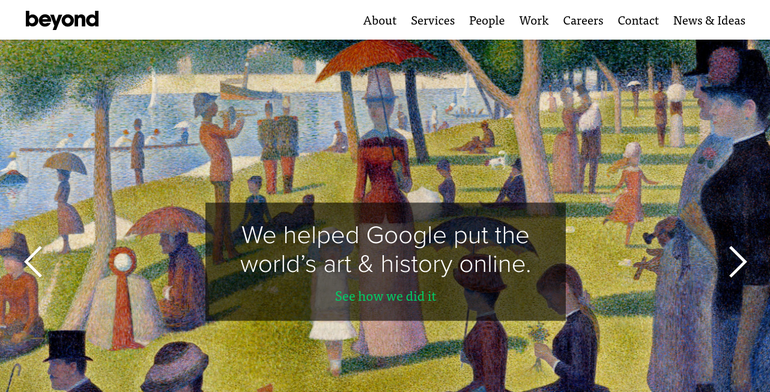 Creative Agency Bynd.com
About the Agency
BYND is a global design company and beyond their works, they are seeking for ways in marketing services in acquiring customers as well as to make transformative digital products in some service areas. Their purpose is to eliminate friction with the use of designing. They make transformation products to get new revenue and to have a great user experience. The company believes that having the best user experience will define brand. They believe that there is no distinction between the way user experience and business strategy is designed.
Short History
At Beyond, they are focus to foster culture that is coupled with some processes. The good thing is that they value entrepreneurial spirit, working atmosphere, professional attitude and commitment to work with their clients. With it, this creative web agency can able to produce the work that you will be proud of.
The company creative was made and managed by team of partners having broad range of expertise and experience. In addition, they are part of global communications group known as Next15 having 47 offices in great 19 countries. Beyond company was formed from merger of digital creative agency known as Type3, from merger of the Content Analytics and content agency known as Content and Motion.
About the Team
There are many persons behind this online creative agency. They are paving the way when it comes to digital innovation. They have team with leadership skills and some of the qualified and trained individuals of the company include Nick Rappolt as the CEO, Matthew lliffe as the general manager and partner of the agency in San Francisco, Charlie Lyons as the general manager in London, Matthew Basford as the general manager in New York and others. Many people give their hands to create the best project that their clients are looking for. The team are strategists, designers, researchers, engineers and writers having infectious creativity.
Services
The company makes the best journey by getting rid the points of friction. Here are the services that the company offer to their clients.
Research and analytics: The company was made from ground up. They are using wide range of awesome tools in capturing data. Their tools come from minds of their brilliant analysts. The good thing is that they are laser focused to inform substantiate intuition, decision making as well as validate assumptions.
How audiences view brand: This creative names for ad agency use data from consumers on the web and top media to measure areas in evaluating product, service health and brand.
Understand conversation in market: With the use of conversation analysis, whitespace research and analysis of social consumer insights, they identify conversation trends.
Understand customer needs: Through research, which includes surveys, user interviews and workshops, they make audience personas that help them establish primary user challenges and needs.
Experience strategy: They are helping their clients to prepare for future. They are translating factual data in understanding critical components of product, service and brand experience. They design and plan positive interactions to have the best user experience.
User experience design: They establish the primary needs of user and identify critical component of user journey. They are testing their designs in gaining valuable feedback.
Some Examples of Their Work
Re-imagining double click
Android for work
Virgin.com redesign
Google Databoard
MasterCard loves this city
If you want to have the best design for user experience, idea management, data analytics and others, you can rely with the company.
Contact this creative agency today!