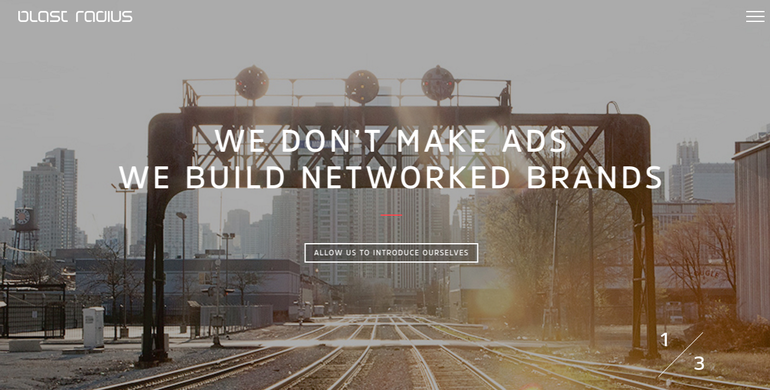 Creative Agency BlastRadius.com
About the Agency
Blast Radius is experience and global innovation company creative. They are digitally focused and creatively driven. The fact is that they are using technology to give creativity service. Their passion in pushing limits of the technology is focused in one thing and that is to give magnificent creative ideas in engaging ways.
Blast Radius make content that will engage and brand consumers. From mobile to social to platform, they specialize in creating content that is tailored to every channel. For social media, they connect with their customers and give the best content that is shareable, authentic and relevant. For mobile, they bridge gap between digital and physical by using apps and sites that will respond to user. For platform, they create any size that is powered by latest technology connecting different content. The company is a digital advertising company that is part of WPP Group, which is based on Amsterdam. They manage corporate site and others for their consumers, clients or customers.
Short History
This online creative agency have deep history when it comes to innovation with the use of creative and cutting-edge strategy connecting consumer and brands.
About the Team
The team of Blast Radius have dedication to build networked brands. They are award winning, global and experience company. Their mission is to make platforms, sites, experiences and campaigns that connect to their consumers and give business results.
Blast Radius developer is supporting a wide range of platforms and clients that focus on latest interactive technologies for consumes. Their developers are responsible in creating technical production on project basis. Aside from having their own developers, they also have designers, general manager, strategists that you can work with. They are all well qualified and trained in giving the best project.
Services
Blast Radius do not make ads, but what they do is they build networked brands. They make content that will build brands as well as engage consumers.
Social: They make sure that they connect customers wherever they are. They give the best content and creative design company profile that are shareable, authentic and relevant.
Mobile: The company ensure that they will bridge gap between digital and physical with the use of magnificent apps and sites that surely respond to users.
Platform: It is powered by latest technology.
It is hard to engage yourself in digital business because there are many things that you need to do, but you are lucky because there are many things that you can do. You can hire the best digital creative agency to work with you and help you. If you want to have successful website that convert traffic and make magnificent sales, you need to hire the right company. Start choosing what you want and avail their service today. Make sure that you do it right now so that you will not waste your time!
Contact this creative agency today!