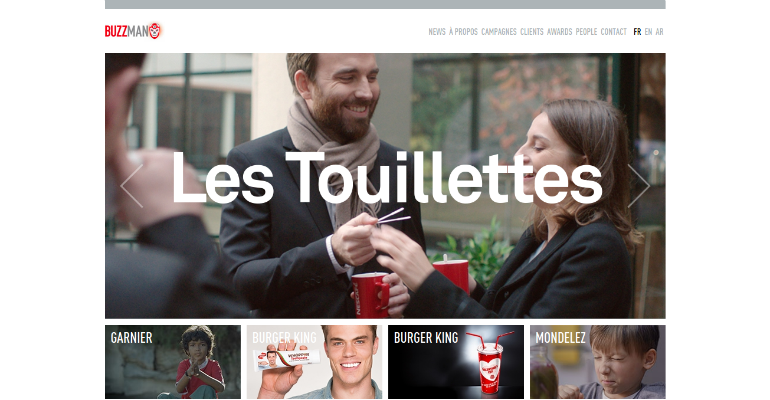 Creative Agency Buzzman

Country: France
City: Paris
Services Provided: Digital marketing, Social media, Viral marketing, Advertising
Full Address: Buzzman 126 Rue La Fayette 75010 - Paris France
About the Agency
Buzzman is a 100% independent creative agency and they are bringing solutions to their client's business problems. They believe in entertainment and creativity to change consumer behaviors, practices and perceptions thoroughly. Buzzman is well known in France and Dubai because of their offered services.
When it comes to their methods, their people
Find and study

an essential

psychological leverage

Implement their creative and strategic talents in engaging audiences through stories
Tell story through their mastery of channels
In addition, they have their credo and it is about respecting their consumers. Some of their clients include Ikea, Burger, King, Ouibus, Huawei, Meetic, Heetch, Younited, NRJ Mobile and Ubisoft. The creative web agency was named as the best international agency in the year 2011 and it was also the agency of the year at Cristal Festival in the year 2013. For awards, they received more than 170 that make them one of the best agencies in the nation.
Their prism evaluation of success includes:
Effectiveness of client's success

Effectiveness of client's business
The ability of brand to complete something and not only to said something
The free media generated
Short History
The creative agency was founded in the year 2000 and they have headquarters in France. As of now, the agency has about 60 staff mainly located at office in Paris and some are situated in Dubai. The good thing is that the agency is doing impossible by making successful and subversive campaigns. The staff is made up of producers and strategists with smattering of traditional creatives.
One more alternative you can pay attention to is 50A agency!
About the Team
The company size of Buzzman is from 51 up to 200 employees. Here is the list of people behind the top-notch agency:
Thomas Granger as the vice president
Oliver Amsallem as the General secretary and CFO
Julien Levilain as the associate director
Adil Zghaoui as the executive manager in Dubai
Amelie Juillet as the head of PR and communication
Patrice Lucet as the senior creative
Katya Violi as the print and TV producer
Pierre Guengant as the account director
Lilian Moine as the senior creative
Benoit Crouet as the print and TV producer
Eva Martin: Junior strategic planner
Laurent Buzenet Drogba: Finance manager
Antoine Moittie: Creative
Nicolas Soutenare: IT manager assistant
Antoine Boizeau: Account executive assistant
Grabriel Teisson: Social and PR media consultant

Marine Alves: Social media consultant
Loic Coelho: Account executive
Astien Bouchard: Creative
Romain Pergeaux: Senior executive
Jean Francois Deconchat: Social media consultant
Julien Doucet: Senior creative
Alexandre Ponte: Social media consultant
Elodie Aubry: Legal advisor
Alexandre Soloy: Account executive
Chloe Henry: Account executive assistant
Maite Orcasberro as the head of accounts
Benedict Muller as the head of accounts
Vannessa Barbel as the head of print and TV production
Julien Scaglione as the head of social media
Francois Phan as the head of digital
Thomas Ceccaldi as the head of new business
Georges Mohammed Cherif as the creative and CEO founded the Buzzman after working over 20 years as a copywriter in large companies. The staff is a mixture of experienced advertising as well as a young generation raised in the digital world. Their team is extremely working hard, especially when it comes to tight turnarounds.
Services
Some of the services offered by the agency include experts in advertising, advertising as well as digital marketing. They are also experts in social media such as viral marketing and others. They are endorsing their expertise.
Some Examples of Their Works
Here are some of the best works of the agency making them one of the best agencies in the nation and around their world. The samples will let you know how they work and what kind of expertise they have.
There you have the overview about Buzzman. The agency plays a lot in helping their clients and customers. They make sure that everything they need will be provided to ensure that you will get complete satisfaction. The agency is always available to help their clients, especially when it comes to advertising, digital marketing, and others. Their team is working extremely to make sure that clients will get what they want. If you want to know more information, you can check out the website of the agency.
Choose the best online creative agency today!