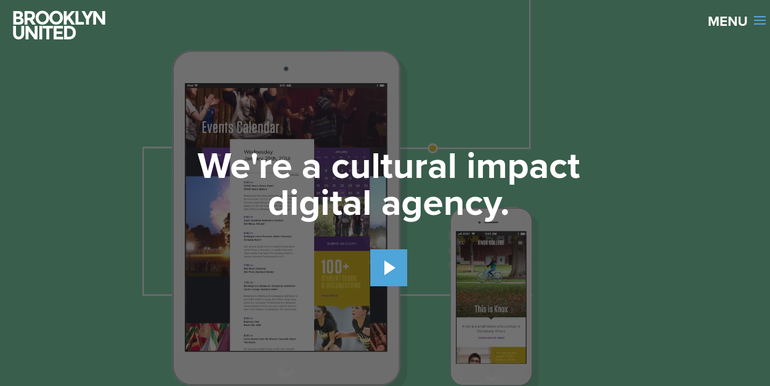 Creative Agency BrooklynUnited.com
About the Agency
Brooklyn United becomes sharper, more inventive and smarter if they are challenged. They work hard, dive in, learn together, always growing and recover fast. Their experiences are shared and their ideas are heard. Whatever title, all of them shapes their culture, work and studio. They are always seeks for ambitious customers as well as industrious individuals.
The good thing with the company is that their clients always come back because they know what they get from it. This web creative agency does its best to give the best sales to their customers.
Short History
Since 1999, they create awesome online experiences. Bold sites are backed by analytics and data. They create digital experiences that will always matter. In every project, they based it in analytics and ice-cool strategy. They make sure to hit your goals.
About the Team
This creative web agency has their best assets. They have Meg Adams responsible for technology, Lindsay Hoppenjans for client service, Ana Jovane for design, Cheyenne Miller for administration, Adam new for visualization, Laura Stephenson for design and John Szot for visualization. Their team helps each other for the betterment of their client projects. They have a team that works together in meeting the needs of their clients. Because of them, the agency becomes successful.
Services
Knowing some services of the agency is essential so that you will know if they will be able to give the project that you need. Make sure that you get enough details about their offers. The good news is that choosing them will provide what you want.
Strategy and marketing: This creative design company use insights, thorough research as well as analytics to have the best strategy that is different from others. With this service, they offer copywriting and content strategy, community management, information architecture and much more.
Design user experience: They are taking visual communication seriously. They are focus in giving awesome user-cantered design with multiple platforms. They create usable details and clean and enchanting interfaces. They create graphic design, motion graphics, cross-platform design, brand identity, style guides and mobile app design.
Technology: Whether JavaScript frameworks, CSS, concise HTML, native apps or semantic, they do it from scratch. Their browsers, platforms, systems and languages help them to write efficient and elegant code.
Preferred platforms: If you do not see the platform that you want, the company will help you to have it. They are proficient in creating the best platforms and they make sure to have the best solution.
Some Examples of Their Work
Here are some clients of the company. Before you choose them, at least you get ideas on how they work. You will never waste your time getting in touch with them.






There you have the important information that you need to know about Brooklyn United agency. Relying with them is the best solution that you can have. Whatever you need, just tell them and they are always available to provide what you are looking for.
Contact this creative agency today!