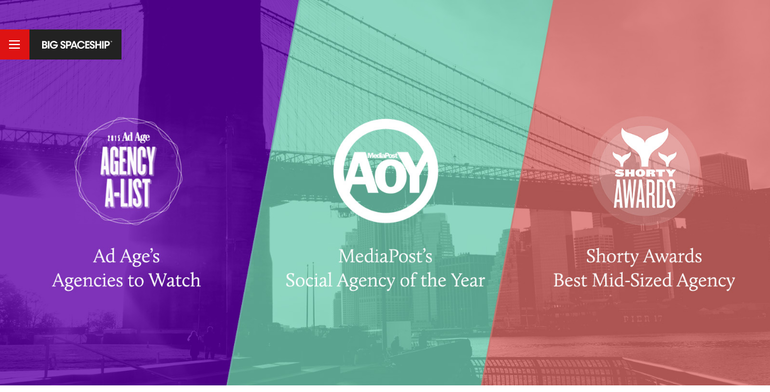 Creative Agency BigSpaceship.com
About the Agency
Big Spaceship is built to work faster, effectively and smarter. They have autonomous teams and every group develop efficiencies and make better outcome for their clients business. By working with this company creative, clients will be engage in all disciplines. Additionally, they have strategists that cover users' needs and motivation.
Short History
In the year 2008, Harvard Business Review published 37 case studies on their interdisciplinary and innovative work environment. Instead of putting technology and design in different floors, they ensure to make one project at a time.
About the Team
Big Spaceship do not have creative department because each of their team contributes. Each of them has voice and ideas. In the executive team department of the integrated agency, they have their founder and CEO named as Michael Lebowitz, Rob Thorsen as their President and Cedric Devitt as the chief creative officer and others. All of the persons that part of the company are the keys that make this creative web agency successful and continue to grow.
Services
Here are some lists of services that you get in the company. Whether you need data analytics, social media campaigns, content, technology, design and user experience, the company will provide what you need.
Design and user experience: Their visual designers as well as UX specialists is working together in creating useful, elegant and unique solutions to business challenges. They create visual design, style guides, design studio, content strategy, information architecture and much more.
Social media and content: Their team for social media deliver insight driven content. With the use of iteration and methodical measurement, they are turning audiences to advocates. They have competitive analysis, focus groups, user interviews, content personas, channel strategy, social presence audit and channel strategy.
Technology: They are not afraid in finding best solutions for each business need. Whether it is content rich responsive site, mobile application or employee network, their work is always built for performance, longevity and scale. They do technical consulting, responsive development, quality testing, rapid prototyping, installation & experience.
Data and analytics: Their approach is about making big data by focusing on small points that will make a big difference. For this service, clients can get data strategy, social segmentation, application analytics, content engagement, website analytics, dashboard development and much more services. This creative company guide you on data and analytics.
Some Examples of Their Work
These samples of work of the company are completed and become successful. If you also want to have your own, then checking the company service is what you should do. Big Spaceship is a big company with experienced team, check to know what you can have for yourself.
It doesn't take a genius
BMW: A Genius in your pocket
There you have an overview, services and other information about Big Spaceship. The company is one of the best choices you can have online. They are worth to have for your business and their team will really help you in getting what you want.
If you want to get the best, get help from this agency creative today!