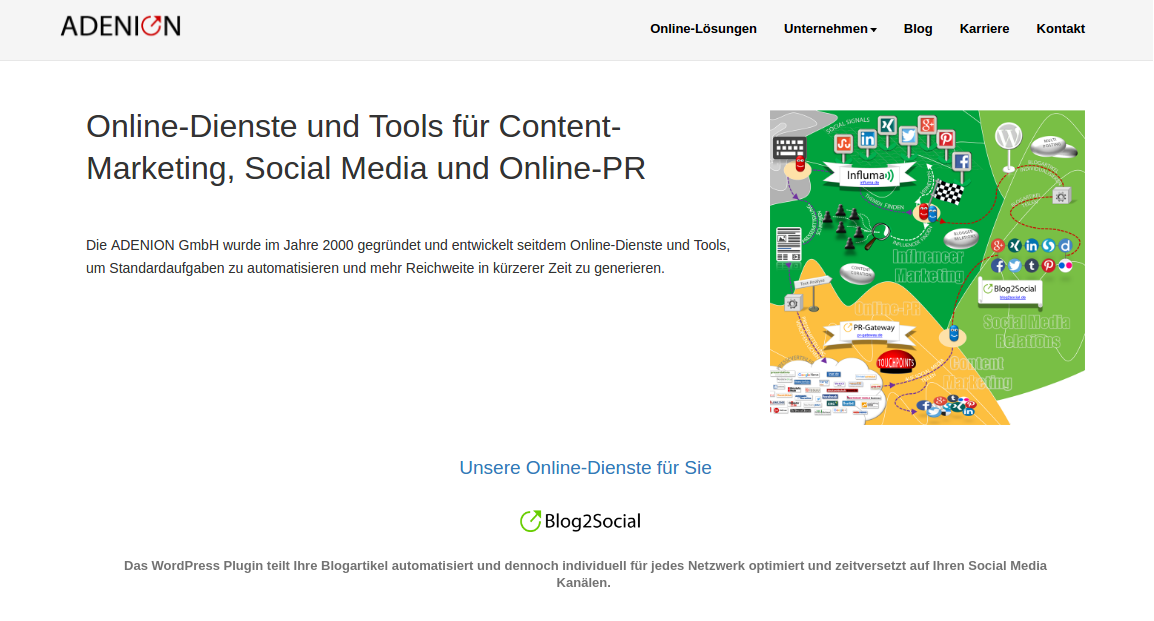 Creative Agency Adenion

Country: Germany
City: Grevenbroich
Services Provided: Content Marketing, Social Media, Online PR
Full Address: Merkatorstraße 2 41515 Grevenbroich Germany
About the Agency
Adenion is the creative agency based on Grevenbroich, Germany. This digital content agency is a business development company that has helped many businesses in increasing their sales. With this digital creative agency, the public becomes familiar with the brands. This is done through the agency's new tools and methods in brand strength sustainability.
Adenion specializes on Social media and online public relation and content marketing. Adenion has a vision. It is to develop online services and tools to provide automated standards tasks and cater a majority of the population within a short period of time. As mentioned, Adenion has already helped many businesses. As a matter of fact, these businesses are those well known. Some of Adenion's clients are Jung v. Matt, Schwartz Public Relations, Baur, Business Village, Verclas and Friends, Fujifilm, Fujitsu, and Grayling to name a few. If you observe, these are internationally known brands that have been around over the years. So, if you want to be like them, then, continue knowing Adenion.
Short History
Adenion was established in 2000 by two passionate people, Andreas Winkler and Melanie Tamblé. From the year it was established up to present, it has been helping in the progression and development of portals and online services for public relations, sales, and marketing.
Aside from the business side of Adenion, it has also a social commitment. In the year 2005, it has already dedicated itself to SOS Kinderdörfer in the form of village sponsorships. With these village sponsorships, support and contribution to the infrastructure of an SOS Children's Village are possible. Then, there will be the construction of schools, hospitals, kindergartens and family houses. There are much more benefits of the village sponsorships. Adenion has opened its eyes to this commitment because they believe that online servers, an efficient infrastructure, are important.
About the Team
Adenion's team is led by its co-founders, Winkler and Tamblé. Andreas Winkler is not only a co-founder of Adenion. She is also the managing partner. Winkler is an expert in e-business strategies. He is an engineer of communications engineering. He has also earned many experiences in the areas of internet technologies, online marketing strategies and e-business models over the years.
Melanie Tamblé, the other founder, and managing director is also an expert when it comes to e-business and online marketing. But unlike Winkler, she also specializes in online communities and social media. If you looking for her experiences, she has a lot to say. She was a marketing manager for popular consulting companies and software houses like Microsoft. She is also an author of books about online marketing and online public relations. Tamblé is also a guest author to different content portals and expert networks.
The founders hired individuals who are driven with the same passion they have when it comes to online marketing, public relations and e-businesses to a name a few. Each employee has a vast knowledge of the areas that Adenion focuses. The creative company's team is composed of specialists in the fields of technology and software development, public relations and marketing, project management and e-business.
Services
PR-Gateway: With this service, your company news and press releases will be published online depending on your individual selection. You can choose from more than 250 news archives, international portals, thematic, social media and document Portals, RSS directories and premium portals. The aim of PR-Gateway is the exposure of your online press release so that it can reach more clients and more media contacts in short period of time.
Blog2Social: It will allow you to publish your posts with efficiency on your social media accounts with just one click. Its goal is to market your blog article on these accounts.
HR Gateway: This service allows your business to be contacted by qualified individuals who want to join your company. This will encourage experts to be part of your business. Remember that to be externally successful, you should have a strong management. HR Gateway will give points of contacts for these applicants by the diffusion of the jobs on portals; hence, the aimed visibility will be achieved.
PR-Gateway Academy: Just think of a school, but this time, it will be more fun. With PR-Gateway Academy, you will be able to have expert knowledge and techniques about online Public Relations on the internet. Additionally, you will also be learning more on the areas of online marketing, social media, and online press releases through webinars and online seminars.
CM Gateway: With this service by Adenion, you will be reached by more followers in a short span. This will result in easy dissemination of texts, images, documents and messages on all your social media accounts.
If you think this is Adenion already, you have to visit its website now to know more about it. Adenion has a lot more to offer and say about itself. So, if you are curious about this agency, you may get in touch one of their experts to learn about it package plans.
Contact the creative agency for you today!