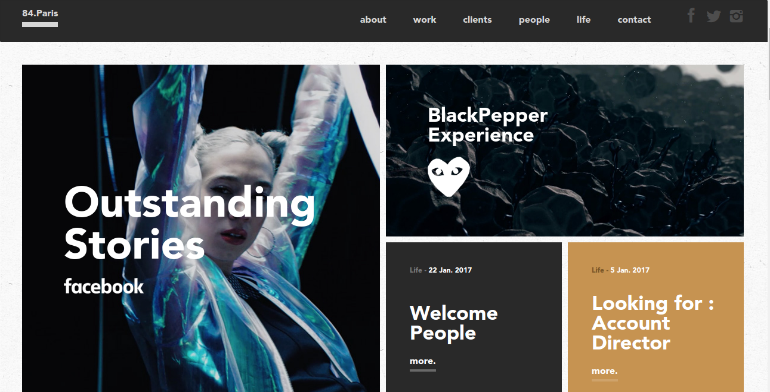 Creative Agency 84paris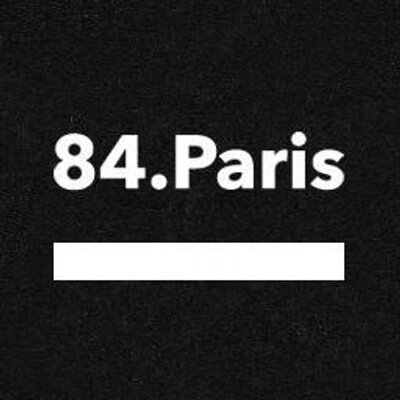 Country: France
City: Paris
Services Provided: Branding, Marketing campaigns
Full Address: 84paris 18-20 rue de la Forge Royale 75011 Paris
About the Agency
84.Paris is a creative marketing company that is full of ideas. In fact, it calls itself as an ideas agency that produces unique, innovative, and effective solutions for its clients through the use of technology. These strategies assist the brands to survive the complexities of the digital world. Brands will be able to manage new challenges that come along the way.
The agency works with the belief that there is no need to stick with the traditional ways in advertising and marketing. But nevertheless, it still uses these ways to guide it in forming solutions. 84 Paris considers its clients as its partners. The success of its partners is its achievement, too. Its strategic vision makes every detail of its work relevant. Hence, it does not waste the time of its clients. Aside from conveying informational content, it also does not sacrifice entertainment. It balances the professional look of the brand and its fun side to be able to reach more its target audience.
84. Paris believes that form and content should not be separated. The expertise of the company covers insight analysis and contact planning, strategy, project management and production. The company has already worked and continues to work with global brands like Petiti Bateau, Facebook, Greenpeace, GrDF, BiothermHomme, Google Cultural Institute, BMW, Nespresso, Carlsberg and Mairie De Paris.
This Parisian independent advertising agency specializes in TV Commercial, outdoor, POS, Print, Social Media, and Digital. Its creativity is manifested in its work. It strategies are inspired by the latest innovation of technology to be able to reach people. From these things, it aims to build relationships with its clients, making the agency relationship-oriented.
Short History
84.Paris was founded in 2013. The creators are Olivier Bienaimé, HervéBienaimé, Arnaud Depaul, Samuel Katan, Nicolas Sarrail, Nicolas Camillini and Jean-Vincent Roger. Today, it is one of the leading agencies in the world in digital marketing. With the works of 84.Paris, it has been a recipient from many award-giving bodies like FITC, .Net, Eurobest, Clio Awards, Cristal Festival, The Webby Awards, The One Show, FWA, The Love Awards and Awwwards to name a few.
About the Team
The team of this agency creative is composed of about 50 employees overall. The 84.Paris' team is joined by different nationalities with the talent and they love challenges that will tickle their minds and improve their potentials.
The co-founders themselves lead the agency. Olivier Bienaimé and Hervé Bienaimé work as the Executive Creative Director. Arnaud Depaul, on the other hand, is the President, Samuel Katan is the General Manager, and Nicolas Sarrail is the Managing Partner. They also have Nicolas Camillini as the Startegic Planner and Jean-Vincent Roger as the Head of Creative Technology. Other members of the team are Antoine Martin as the Interactive Developer, Simon Guerot as the Junior Producer, Claire Moulin as the Office Manager, Julien Sipra as the Creative Strategist and Philippe Vignau as the Creative Technologist. If you want to meet the rest of the team, you can visit the website of 84.Paris.
Services
Storytelling: 84.Paris always takes note how touch points should stay connected from each other. The agency conveys your story in a relatable way. It transforms storytelling into story sharing.
Design and Art Direction: The agency is very particular when it comes to designs and art. That is why it pays attention to how you will become known by your target audience. And such design and identity will give impact to them for a long time.
Social Media Management: 84.Paris makes it a point to bring your brand near your target audience. This is why it creates strategies that will make your accounts more effective for your campaigns.
Brand Content: The external look of your brand would be useless if its content is not complete and sufficient to encourage your target audience. This is 84.Paris also gives emphasis to the content as equally as its exterior look.
Creative Technology: The agency uses the latest technology for your brand's strength and sustainability.
Some Examples of their Work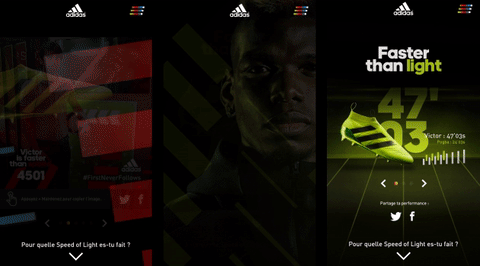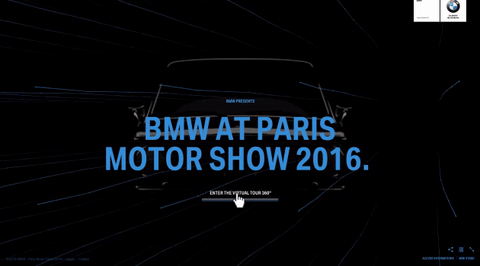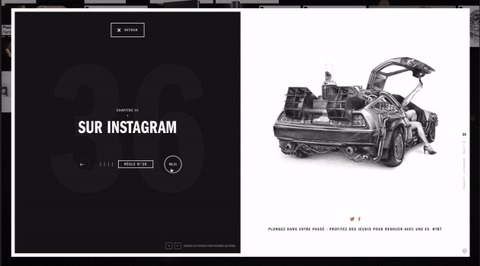 This is just an overview of 84.Paris. This creative design company can be your partner for your brand's success. If you want to get to know of the agency and its services, you can check its website or visit its social media accounts.
Learn more about the creative marketing company today!