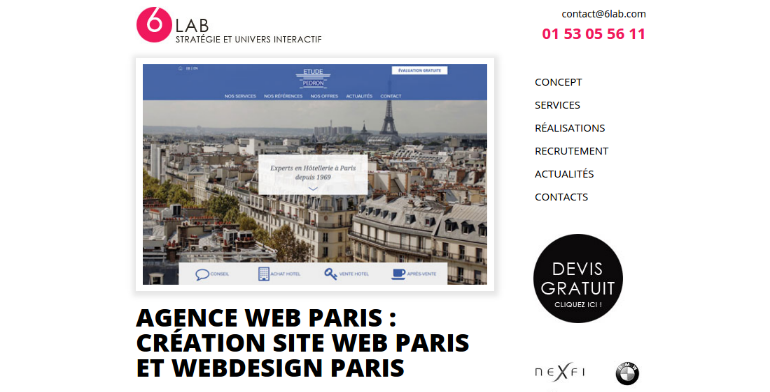 Creative Agency 6lab

Country: France
City: Paris
Services Provided: Website design, Web design, SEO, Internet council
Full Address: 6lab 16 rue de l'Arcade 75008 Paris France
About the Agency
6lab is a company creative that has been a partner of different local and global brands when it comes to digital communication. The agency listens to the business' stories and gives pieces of advice to resolve their issues. It also brings these stories into life so there will be reachable to your target audience. Furthermore, 6lab aims for brand awareness and its strength sustainability.
There are three things that 6lab believes to be the reason why it is successful. One is the passionate team behind it. Second is the lively idea created by it. And third is the attractive web solution it gives for its clients. 6lab specializes in web design, UX, web developments, artistic direction and strategic consulting on the internet. It is expert when it comes to creation of, website, and UX.
The clients it caters are from different sectors like lawyers, hotels, consulting, finance, and other fields. It has already worked with about 120 customers. Some of the global brands that they have worked with are Nexfi, BMW, Allomundo, NEC, Boots Healthcare, Soflog-Telis, Bravo, Lansen, MobiGreen, Dolce Vita, SNCF Consuling, Nettement Chic, Nestle France, Sun, and MediatranportsMediatheque.
Have you heard about Maecia marketing firm? Follow the link and learn more!
Short History
The agency was founded in 2003 in Paris, France. It has been known to be both a web agency and a creative studio. Today, 6lab is one of the most reliable and competent digital marketing and advertising agency in Paris. As a matter of fact, it has already received about 300 achievements for its works.
About the Team
The team of this online creative agency is composed of about 20 individuals who have experiences in the digital world for more or less 13 years. These people are dedicated with their work and are willing to improve their abilities. The members of the management team are Nicolas Ratel, who is the Strategy and Project Manager, Guillaume Arnaud, the Production and Technical, and Thierry Sanchez, the head of the Strategy and Development Department.
Some of the members of the Creative Team and Technical Pole are Caroline Melerski, the Artistic Director Senior digital, Marie Gibault, a Freelance artistic director, Manuel Corvo, who works as both Senior Artistic Director UX and the interface designer, and Clément Vincent who is the DA, Web designer, and the Project Manager. Others are Adrien Léger is also a Project Manager, and also works as the Graphic designer at the same time, and Clara Vandierdonck, the DA Junior.
Services
Web, Web design, and UX

: The agency is composed of experts when it comes to web and marketing. They are creative when it comes to making

web designs

and websites. They also specialize in consulting. 6lab offers Web hosting which includes Consulting and online positioning, Website creation, CMS WordPress, Drupal and CakePHP, UX and Ergonomics, Responsive Design, Art Direction /

Webdesign ,

and Integration of HTML5, CSS 3, and JS /

JQuery

. It also caters Print services for

creation

of logos, illustration, graphic chart, flyers and invitations, stationery,

posters ,

and brochures.

Strategic council: 6lab can provide you with assistance for the definition and implementation of your strategies on the internet through its senior consultants. With the consultation of the agency's strategic council, your image will be enhanced, and your sales will be increased. The council provides for answers with your queries involving strategic choices.
Referencing and E-marketing: There is a need to catch the attention of your clients. But it is more important to sustain their attention and increase their awareness of your website. To achieve this, 6lab helps you to get on top when it comes to search results in Google. And this is with the help of the SEO/SEM consultants of 6lab.
Web content production (Editorial, Photo, and Video): Your story will be brought into life through this service.
Some Examples of their Work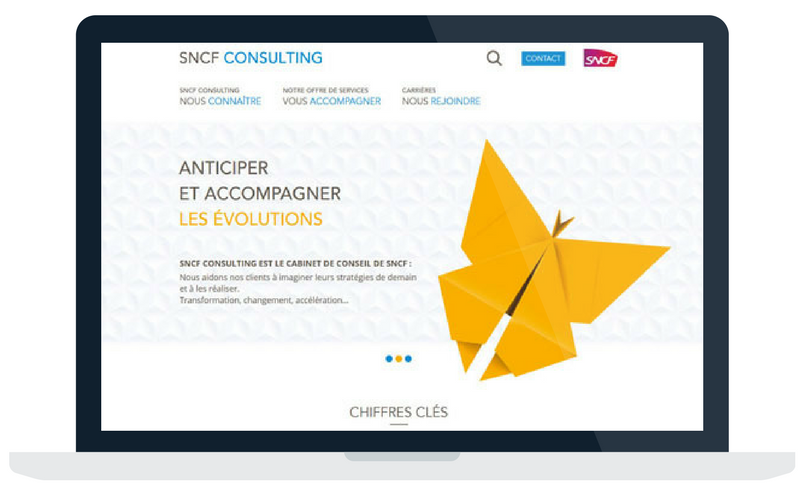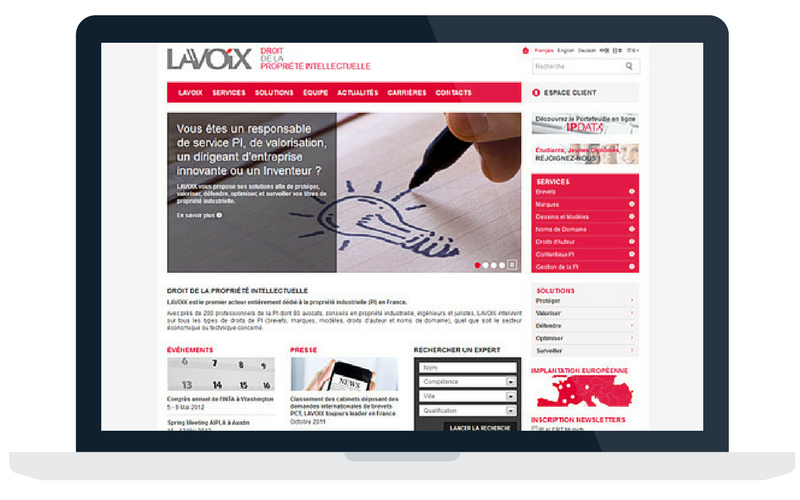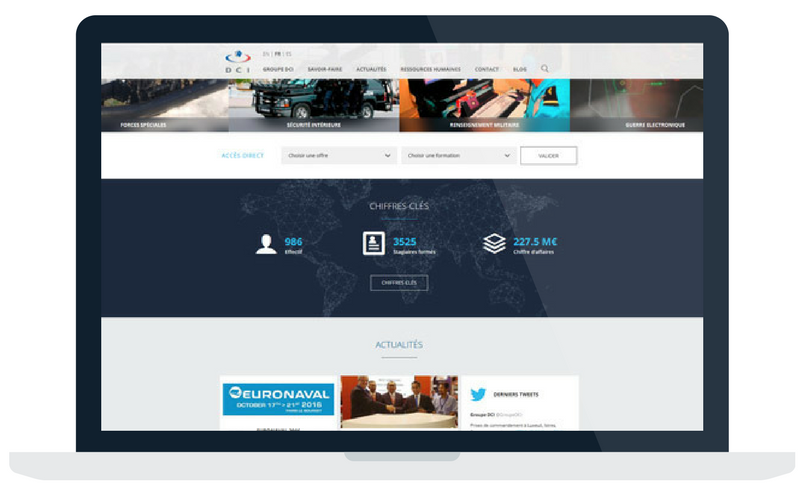 6lab is an agency creative that renders a full service of web solutions for a satisfactory interactive experience. This is just an overview of 6lab. There are more things to know about the agency. If you got interested in it and you want to know more about its services, you can visit its website. 6lab is also active on its social media accounts. You can follow the agency for more updates.
Learn more about the 6lab company creative now!