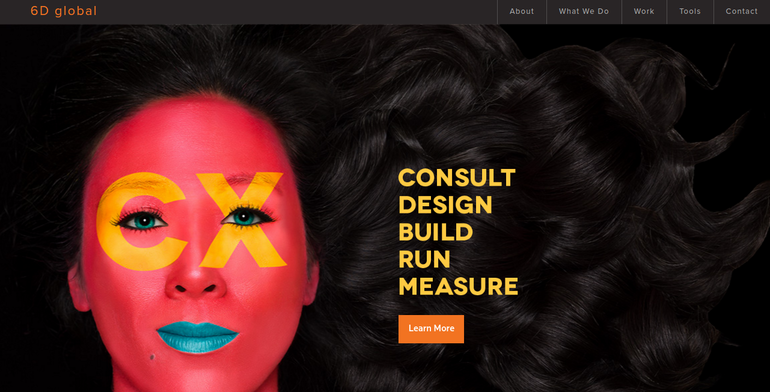 Creative Agency 6DGlobal.com
About the Agency
Digital experience is powerful because it defies imagination, give endless opportunities and create wonders. Because of this, the 6D Global agency creative loves it. They are committed in infusing, evolving and creating the best digital experience.
6D Global is striving to make remarkable digital experience that gives the best to their clients. They are creating something that is passion, expert and spirit. A company provides services and ideas to life with the purpose of making connection. A connection to their customers that changes how people play, work and live. They want to make one that will achieve their clients' needs. When it comes to core values, the agency make sure that they take their core and culture seriously. They make sure that they satisfy their customers. They agency listen to their customers. Aside from this, they will be innovative and fearless. They change themselves and ensure to make solutions. They are also leaders and owners. They act in behalf of the creative marketing company and ensure that they give the best future for their clients.
Moreover, 6D Global are passionate. They put their mind and heart into their works to achieve the best for their customers both externally and internally. They will be accountable and honest. They will be responsible for actions influencing lives of customers.
Short History
The creative agency is focused in supporting people. They believe that their success has something to do with their client deliverables, trade secrets and approach they employ. The fact is that they succeed because of the strength of their team. The people behind this design creative agency are passionate about digital marketing.
6D is built on innovation. They are pushing cutting-edge solutions for their clients with marketing challenges and complex business. With them, you have the chance in exploring new technologies and another part of their culture is to give their team everything they need in order to make great work and innovate.
About the Team
The agency has their director, which is the center of excellence named as Brian Warner. They also have David Slovina who is the VR recruitment person. Aside from Brian and David, they have Gerard Casazza, who is the senior analyst, Jason Porath as the VP Business Development, Kat Topaz as the VP Delivery and others. Their creative team gives complete design solutions in mobile, web and print considering all aspect and their clients' experience
Services
Taking brand identity is not optional, but it is a necessity. The digital ecosystem is hard to navigate, ever changing and complex. 6D Global take your brand digital, transform your business and create new sources for competitive advantage and revenue. 6D is there to design, consult, measure, run and build their clients digital marketing programs.
Consult: Digital marketing decision required deep partnership between advisors and technical. The agency creates customer experience through their practices that is tailored to customers' needs.
Design: The agency creates remarkable user experience.
Build: They manage and build digital experience for global brand that is complex. They have building digital experience that surely works on global level.
Run: The agency helps clients to fix their problems.
Measure: 6D Global optimize and customize measurement at the same time personalizing customer programs.
Some Examples of Their Work
There you have the works and services of the digital creative agency. If you like to have their service, you need to start contacting them now!
Contact the creative agency today!