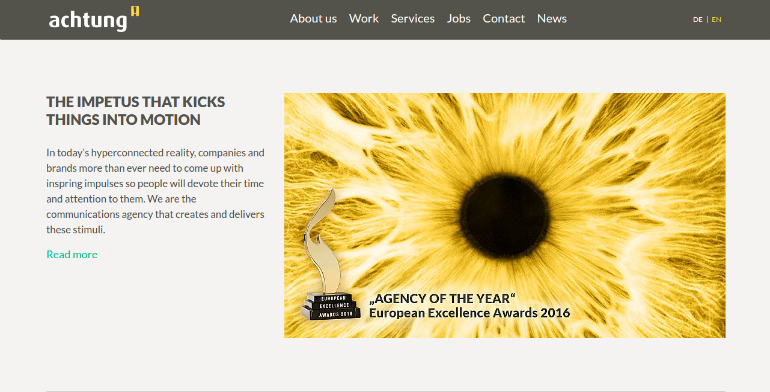 achtung! Creative Agency

Country: Germany
City: München
Services Provided: stories, marketing campaigns, PR stunts, media stagings
Full Address: achtung! Bavariastraße 6b, 80336 München Deutschland
About the Agency
The agency creative is another reliable digital marketing agency to rely on. They have a holistic approach to making things work for you through effective project design, creation, and management as well as presentation and negotiation training. The company believes in the transfer of knowledge in which they allow each other to learn through sharing their experience, skills, and expertise to each person in the team.
They also believe in proper communication, which is why they ensure that every member of their team receives business English training. Another reason for business English learning is that they work with international clients, so they have to learn the language well.
The creative marketing company also supports the social community, and one of their advocacies includes the support against the violence for young people. To ensure that each member of the team is happy, the company has an external coach to those who need stress counseling, which is 100% confidential. But that is not all. They also believe in the importance of the health of their employees, which is why they offer discounted gym memberships. In this case, their employees are supported when it comes to staying at the top health.
Short History
A creative company achtung! should be able to inspire others, and so ACHTUNG ensures that they do so. They have been helping brands and companies and inspiring them to make the difference. Through their expertise and experience in the digital marketing and branding fields, they are able to deliver their promises of effective communication and branding to their clients. The company is what you need for effective campaigns, actions, stories and media production, and they design these above earned, owned and paid media. They take your campaigns to the next level by bringing them to the appropriate channels and audiences.
Feel free to explore more info about marketing companies, read about Parasol Island firm!
They make use of their talents and skills in social media, PR, direct, advertising and digital – all resulting in better communication. To date, they have about 140 employees in their company. Each of them has the passion and the talent in their respective fields in the media, IT, advertising and creative designs.
About the Team
To get to know the creative company better, let us take a look at some key people behind their management and operations. They have a wide range of managing directors who can perform the job by tailoring campaigns that will suit your business and audience and manage their people to deliver and execute the requirements of a digital campaign.
Mirko Kaminski is the CEO and Managing Director; Thorsten Beckmann is the CFO and CEO; Max Stroebel is the CSO and CEO, and Hans Albers is a CCO and Managing Director. Each member of their team is an expert in his or her field, ensuring that each of them will deliver and perform at the top of their limits. When you hire this creative team, you can rely on their combined years of experience and work dedication to succeed in your field.
Services
The company offers a wide range of services that can help in marketing and branding on social media and on the web.
Digital marketing: With the team, you can create effective digital marketing campaigns for your digital reputation. They can help in creating campaigns for your target audience, leading to business success.
Marketing: They can help you with complex marketing topics, including on content marketing strategies and reputation management through concrete and individual recommendations.
Social media marketing: You can depend on this creative agency when it comes to improving your social media presence. They can help you with the newest and most effective techniques in capturing the attention of your audience on social media.
Content management: They can help you save cost with content network and sync. They can make sure that your content is tailored based on your audience and market needs and behavior.
Visual marketing: The team is your help when it comes to delivering your advertising messages to your consumers. They can help define the right approach for your business and make your messages stronger for your target groups.
Some Examples of Their Work
Take note of these details about the company so that you will have a better idea about them when choosing your creative agency. They have the team, technology, and knowledge in taking your business to heights with an effective and successful idea and concepts for your target audience.
Consider this agency creative today!