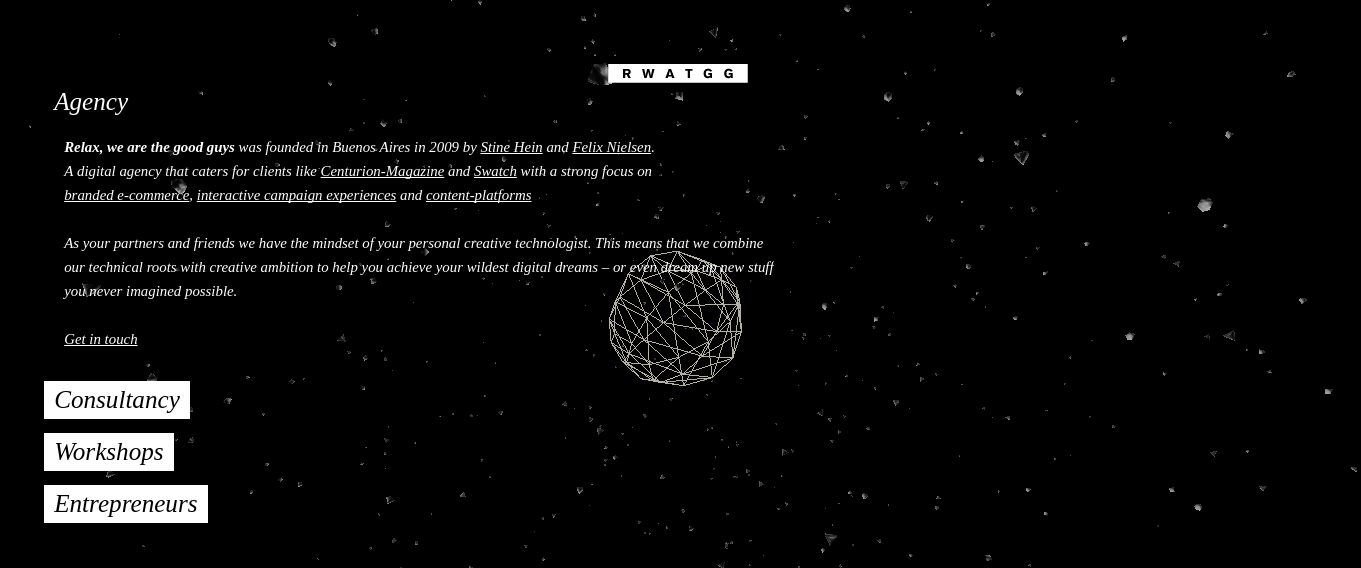 Creative Agency Relax, we are the good guys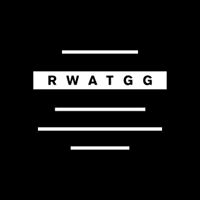 Country: Germany
City: Berlin
Services Provided: Branding, E-Commerce, Campaigns, User Experience, Content, Consulting
Full Address: Winsstrasse 27 DE 10405 Berlin Germany
About the Agency
Relax, We Are The Good Guys or RWATGG is a digital creative agency that specializes in product consultancy and brand management. For the past years since its establishment, the company stays truthful with its standard of keeping value and high regard to every project it handles. It always tries to push harder to exceed expectations – whether it is in technical or in the creative aspect of the job.
The creative design company also believes that the greatest results, in any project endeavour, are attainable through a combination of the right team members, diverse collection of strategies, technical expertise, and creative knowledge. RWATGG takes each project as a unique task, with unique required solutions. In this regard, the company does not provide a fit-to-all type solution – but a customized resolution tailored to the project needs. The company provides personalized creative solutions and aims to deliver client's digital dreams – even exceed what they have been expecting from them.
For the past years, the company has been seizing the fruits of its labour in online creative industry. As the matter of fact, it has received the more than 25 awards such as the FWA Site of the Day, over 10 awards from Awwwards and Creative Circle and over 5 awards from Creative Box. RWATGG has offices in both Germany and Portugal. In Germany, it is headquartered at Kastanienalle, Berlin.
Short History
The agency was founded in 2009 by Felix Nielsen and Stine Hein in Copenhagen. The company was initially a digital agency and decided to expand into a digital product development agency since it has been collaborating with global brands like Google, Ikea, and Orange.
Get a professional team with your next online marketing campaign! Check out gyro!
About the Team
The company is composed of more than 10 employees dedicated to providing innovative product brand solutions. The company employs diverse individuals with exceptional talent and skills in product and brand development.
As a creative design agency, RWATGG is focused on developing top-notch design solutions and marketing tools to help clients boost their brands in the online community. These creative solutions are a product or through market study, brand consultation, and of course, the ideas of the client. Among RWATGG services include product development designs, brand consultation, content management, and social media administration.
Services
Product Development: Clients might have the product but they do not have the idea on how to introduce it to the market. RWATGG takes care of how your product should look like online. The company's development team will give your product the look in order to bring it closer to your target market.
Brand Consultancy: Your product might have a name but it is not a brand. A brand is a unique experience that users get once they use your product. It is the feeling of fulfillment you deliver once they experience your product. RWATGG gives your product the brand – from the catchy tagline, colour schemes, and typography.
RWATGG brand team discusses what you want for your brands to look like, who are your target clients, and what do you want to achieve. By settling these factors, the team will determine your brand requirements and will be able to design brand campaigns. In this regard, the company will also determine what type of platform your brand should be launched to. In the online community, there are numerous platforms where you can debut your brand – you can choose from online ads, social media, or websites.
Content Management: RWATGG also specializes in content management. The company sees to it that your product has the right content to reach your target market. It has a team focusing on Search Engine Optimization (SEO) to make sure that your product is visible to those who need it online. Content management also ensures that your product contains the appropriate keywords so that it will surface in every user search online.
Web Design: RWATGG is also known for designing responsive product websites. It creates user-friendly websites with the promise of positive feedback from online visitors. These websites are of unique characters – depending on product requirements and client requests.
Some Examples of Their Work
RWATGG works with largest online communities and products online. Among its clients are the following.
Swatch and Art App – run through from relax, we are the good guys on Vimeo.

Nokia Lumia 1020 – The #ZoomProject-HD from relax, we are the good guys on Vimeo.
DISASTER RECONSTRUCTION PAVILION from relax, we are the good guys on Vimeo.
Hiring a creative company should be on your top list, especially if you want your brand on top of the competition today. For effective marketing, you may want to consider the agency that has proven itself to be one of the most reliable teams around.
Check out the digital creative agency today!