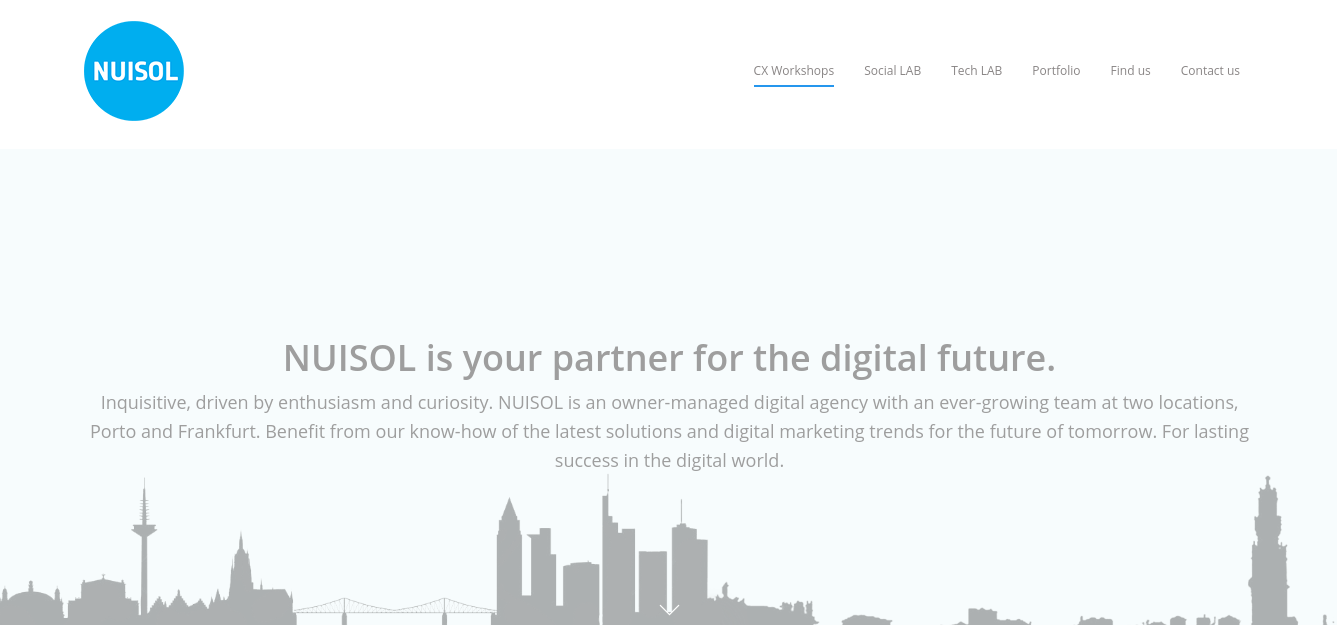 Creative Agency NUISOL

Country: Germany
City: Frankfurt am Main, Porto
Services Provided: User Experience, Branding, Strategy, SMM, Content, Technology, 3D, Print
Full Address: Windmühlstraße 1 60329 Frankfurt am Main Germany
About the Agency
NUISOL is an agency creative that believes in the endlessness of digital possibilities. It is an agency, which has an expertise with the technology. The creative technology agency helps you achieve your goals with the growing challenges in the digital world. Businesses or brands find new perspectives and visions with the agency's artistic design and strategic use of the digital technology.
It uses Social Media, Tablets, Mobile, virtual reality, AR, Tablets and other devices and apps to bring your ideas and stories to the world. NUISOL has answers to your problems because of its vast knowledge about the digital world. Because of the team's knowledge of the digital world and statistical research, it has been awarded by several bodies. In 2015, NUISOL was one of the best communication agencies. It has also received a German Brand Award.
Short History
The company was founded by Christian Kuhn in August 2003. Today, NUISOL is a member of GFK Vereign, BVDW, German UPA, Institut fur Information Architektur, and Kommunikations Verband.
Get a professional team with your next online marketing campaign! Check out Adwyse & Co!
About the Team
The team is composed of creative individuals who have expertise in many digital areas. It is led by the founder himself, Kuhn. Kuhn is also the UX Designer of the company. You can meet the entire team by visiting NUISOL website.
Services
Cross-media consulting: This means that the digital creative agency will lay down to you all the possible experiences that your brand may select. It aims to give you digital experiences for your brand to be established. Cross-media consulting services of NUISOL are Design, Conception, strategy, transmedia communication, Digital Branding, Social Media, and Employer Branding.
IT / Web Development: This service will help you build and establish your brand with the use of technology. This service of NUISOL includes Web Edition, HTML, Wearables, Mobile Websites, CSS, JQuery, WordPress, PHP, RWD, Magento, Typo3, Redaxo, native apps, Web Apps, Joomla, IOT, and Tablet Experts.
Optimal websites: It optimizes your brand's experiences by creating your website. It suggests you for its creation. If you have an existing website, it can improve it. It adds more impact to your target audience. This includes Mobile Websites, Search engine optimization (SEO), Responsive Web Design, HTML5 Apps, and Tablet-Optimized Websites for different gadgets like Tablets, iPad, and Smartphones.
Social media campaigns: To cater more clients, you have to use the social media. With this, it will build brand awareness. Social Media campaigns include Xing- LinkedIn Employer Branding, Strategy, Facebook Entrepreneurs and Apps, Google+, Implementation, Instagram, Monitoring, Tumblr, Twitter, Pinterest, and YouTube.
3D printing, prototyping: With this service, your brands will be brought in a more realistic form. It creates 3D models of prototypes, which measures about 16×16 cm. It also includes 3D printing ABS, rubber, and PLA.
User experience design: Brand experience is very important in all enterprises for sustainability and strength. It includes information architecture, user research, UX consulting, laboratory testing, use cases and journeys, usability testing, Usability Screen Capture, and analysis for apps and tablet site.
Tablet-Optimized Web sites and HTML5 Web Apps: NUISOL creates website designs made particularity for web apps and tablets. It also includes touch functions and navigations. It also develops and upgrades your current website or store for maximum tablet use.
SEO, SEM, Google Ad Words campaigns: These services are important to cater more audiences. They will also make people be aware of your existence. They include mobile marketing, Auditing, online marketing, consulting, e-mail newsletter, and e-mail marketing.
Digital Publishing: These services use technology to bring services that adapt to the modern world. NUISOL Digital Publishing services include catalogues, Digital magazines, eBooks, interactive PDF files, brochures that for tablets, and iPad.
Lectures on Fachthems: This service means the creation of UX design for the maximum use of tablet websites, HTML5, social media strategy, and mobile.
Workshops and courses: For user experience design, the agency has web Edition CMS, In-house, and HTML5 designers that will optimize the use of social media campaigns, mobile, and tablet.
E-commerce: The Company guarantees you a smooth service of e-commerce because of its experiences over the years. It includes purchasing, construction, logistics, and sales. It also includes online shop systems such as Magento and XT-Commerce.
Virtual Reality: This service of NUSIOL is for the development of Interactions, UI, Mobile (VR APP), UX-Design, and Stationary (HMD). It also includes Virtual 3D Environment, which is suitable for both HMD and Mobile.
Augmented Reality: For NUISOL, it means the developments of AR APP and 3D content. It includes also the implementation of UX and UI. Interactions with the 3D animations and model are also included.
Some Examples of Their Work
YOTM 2016 from NUISOL on Vimeo.
Beck EffiTech Stecksystem En from NUISOL on Vimeo.
Muhammad Yunus Create Social Fiction from NUISOL on Vimeo.
If you got curious of this creative web agency, you can check NUISOL website so that you will learn more about their offers and services that may be what you need.
Check out an agency creative today!