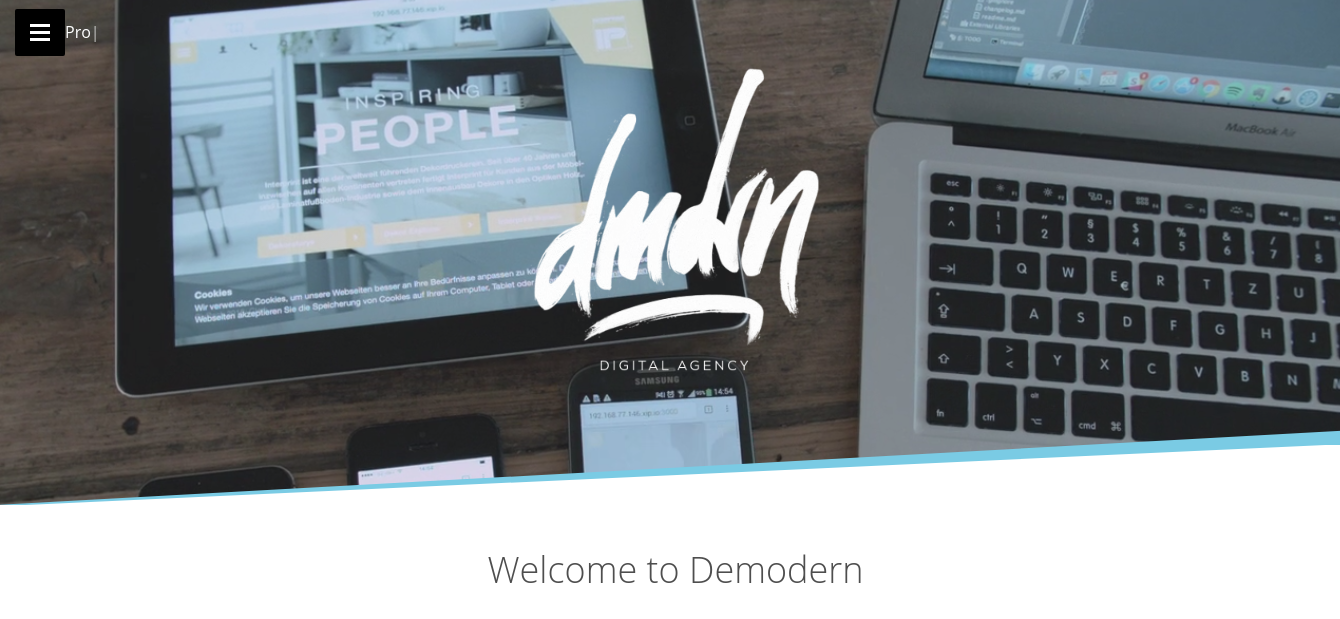 Creative Agency Demodern

Country: Germany
City: Köln, Hamburg
Services Provided: Online Communication, Design, Digital Projects, UX, Strategy, VR, Apps, User Experience, Applications
Full Address: Lichtstraße 43 c 50825 Köln Germany
About the Agency
Demodern is a multi award-winning digital creative agency for design, digital and online communication projects. They consider themselves as a creative technology agency of new generation that is uncomplicated, open and 100% digital. Their passion lies in great digital presentation together with design, strategy, development and UX specialists. Let's push things forward" is their philosophy and credo that does not just apply to their desire in developing their skills, but it is an expression of the way they perceive at each project from a new angle as well as achieve results that surely impress.
Quality is essential that make them proud that over the past years, they developed concepts that are among the best award winning digital projects around the world. For the company creative, however, awards are not meant to end in achieving wide reach or perhaps high visibility; sometimes innovation or creative solution is needed that is why they are proud to have received all those awards without losing sight of their goals.
The agency creative is always open for new inspiration that is why they are delighted to have individuals who do not only have different skill sets, but also who come from different places around the world. Their team comes from Austria, Lebanon, Brazil, Mexico, and Germany.
Short History
The online digital agency is one of the agencies in the Germany, and since 2008, they have been developing and designing digital communication for all sectors. Their international team works collaboratively and passionately on digital solutions from mobile apps, store, event and websites installations up to reality application.
Get a professional team with your next online marketing campaign! Check out Wiredcraft!
About the Team
Their goal is to make high-quality digital communication that definitely makes an impact. Team spirit, as well as inspiring working atmosphere, is their keys. They are working with the team of interactive and UX designers, developers, digital consultants, innovators, thinkers and project managers. They work in an environment that encourages the identification, flat hierarchies, and participation. With it, they are able to work on what they want and they bring digital world one-step further.
One of their principles is about constant internal communication. They are organized into great project teams as well as working closely all throughout the whole duration of projects.
Services
Constant iteration: Iteration in form of a continuous check is essential that enables them to keep an eye on all things as well as guarantee a high quality of their work. In the agency, everyone is playing a role in helping to validate results.
Collaborative teamwork: They have transparency through integration. They do this by involving clients in their workflows and offering a permanent insight into their progress that increases the quality of results that the clients will get.
Long-term support: Their work does not end when clients site goes online or their campaign is launched because the agency plans beyond that support their clients as well as their projects in long term.
Also, their core competencies range from conception and strategy up to development and design. During all stages of client's project, they strive for excellence and they close cooperation with their clients.
Web experiences: With the use of the state of art web technologies like HTML 5 or Web GL they develop interactive web experiences.
Digital installations: The agency creates digital experiences for events and fairs from display walls up to gesture and touch based on applications.
Virtual reality: The agency develops immersive experiences for events, showrooms, fairs as well as mobile use cases with the use of virtual reality technology.
Mobile applications: They develop web applications and native apps for all modern platforms. Be it Smartphone, tablet, wearable or Smartwatch.
Digital retail applications: Their digital tools do not only delight shoppers, but they optimize and innovates stores' internal processes.
Product configurators: Whether 3D or 2D, they build platform-independent configurators for mobile, installations and web.
Some Examples of Their Work
IKEA Virtual Reality Showroom from Demodern on Vimeo.
Nike Digital Retail Experience from Demodern on Vimeo.
Gatorade | Interactive Brand Experience from Demodern on Vimeo.
There you have the details about the agency. It provides the overview, short history, services and others. Working with the agency is a nice choice because it can guarantee that you will like the project that you get from them. Finally, there are many samples of their work you can check out to know how their team delivers complete projects. You can view it to get some ideas on what you can get with them.
Check out this digital creative agency today!